Russia show the latest firepower than the U.S. military combat robots of similar equipment
Date:2011-09-01
Author:admin
Category:International military
Comment:0
Russian robotics design bureau newly developed "MRK-27- BT "fighting robot ( Click to see Atlas )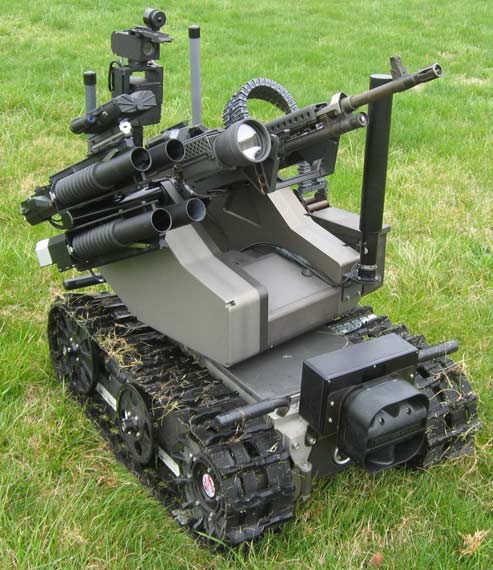 United States "Modular Advanced Armed Robotic Systems"
LONDON October 30 news: According to the Itar-Tass reported on October 28, in Moscow a few days ago at Interpolitex-2009 international police and defense technology exhibition, the Russian design bureau robotics application rollout of its newly developed "MRK-27-BT" fighting robot. The design is that the vitality of this new type of robot power, and mobility and stability are very high, entirely possible combat operations in the future instead of soldiers to perform dangerous tasks.
According to reports, "MRK-27-BT" is equipped with a tracked chassis, equipped with weapons, including two "Super Hornet" flame throwers, machine gun, two grenade launchers and six smoke launchers. Russian robotics design bureau Ilya Ravi Leiqie Fu said, the weapons used by soldiers are now required to undergo special modifications, can be installed directly into the "MRK-27-BT" fighting robot. In addition, if necessary, the soldiers also directly from the "MRK-27-BT" remove the weapon used in combat.
development staff pointed out, "MRK-27-BT" maneuverability and stability are very good, its overall performance is superior to similar foreign products, such as the United States, SWORDS robot battle. In the course, "MRK-27-BT" The operation is very simple – two remote operator can direct the action of the rod, and the remote control distance of up to 200-500 meters. In addition, the robot is also equipped with a camera that can also be obtained to transfer the image to two monitors, to facilitate targeting fire.
present, Russia has robotic technology designed to create a "MRK-27-BT" fighting robot. It is reported that the Russian Ministry of Defense procurement of the robots has expressed a strong interest. Although the Russian military now has not formally order the robot, but given that the U.S. has begun a large-scale equipment like robots and they are on the battlefield in the future may play a significant role in the Russian military is expected to manufacturers in the near future place an order.
on fire configuration, the Russian "MRK-27-BT" slightly stronger than the U.S. last year were put into the fighting robot. Earlier reports said the United States Foster – Miller in the summer of 2008 to the U.S. Department of Defense delivered the first MAARS (meaning "Modular Advanced Armed Robotic Systems"). The robot equipped with major weapons, including a 7.62 mm M240B machine gun and a 40 mm grenade launchers. According to the plan, the U.S. military will be equipped with 1700 in 2014 fighting robots. (Spring)