Home
»
China military
» Armed non-commissioned officers captured on the road to assist the police suspect drug (Photos)
Armed non-commissioned officers captured on the road to assist the police suspect drug (Photos)
Date:2011-09-01
Author:admin
Category:China military
Comment:0
Police Thanks to Loewe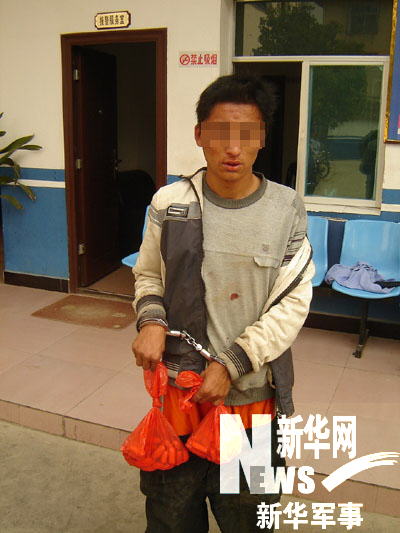 street crime suspects were captured
LONDON: Armed Police Force 8752 NCO Loewe leave errands recently, the Lu-yu suspect will escape a police chase, with his emergency excellent ability to assist law enforcement police successfully captured suspects, and seized 500 grams of heroin.
8752 Armed forces non-commissioned officers afternoon Loewe leave out. He walked on the road when he heard "Stop, stop," cries, two police were fighting with a man, I saw the man wounded by police after a frenzied escape.
"quick to seize him, he is drug dealer!" Listen to two police cry, Loewe stride in the direction the man fled to chase. Ten meters, five meters away from the drug trafficking suspects step distance, Loewe leap forward, right hand button quickly hug her neck, left hand grasping his left wrist in the forward impact of inertia, the drug trafficking suspects flew to the ground.
not a criminal suspect who escaped cornered, while struggling to break free, while loud roar to: "soldier, your Pishi, to I get out, or stab you!"
"soldier's careful, he has a guy!" loudly to remind the people side of Loewe.
moment, Loewe has not taken into account personal safety, his mind is the only idea in any case have to seize drug traffickers. On drug traffickers trying to run again from the ground up, the Loewe a Ehupushi from behind again to pressure in the body, the energy of despair locked her neck, flutter jump, riding pressure, do a series of arm movements at one go … … .
police arrived and quickly approached the suspects completely uniform, and on the spot from the man who seized 500 grams of high-purity heroin. (Gusong Ji, Shao Hongbo, left square)