Home
»
China military
» The United States claiming that Red China's foreign military customer founder rate network to launch hacker attacks
The United States claiming that Red China's foreign military customer founder rate network to launch hacker attacks
Date:2011-09-01
Author:admin
Category:China military
Comment:0
mail screenshot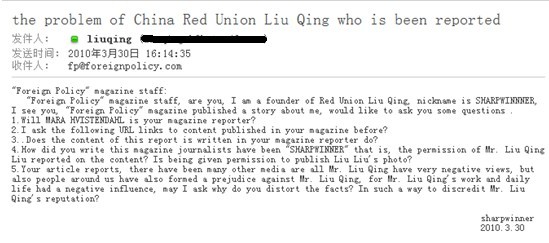 e-mail Send the screenshot
Global Network reporter Li Jiesi reported that the U.S. "Foreign Policy" was released in March this year, entitled "China's hackers Army", a report of "Honker Union of China," Liu, founder (nickname sharp winner) written by "Honker situation," the novel begins with the scene, describes China's "no organization such as Sharp Winner of hacker gang." April 8, World Wide Web reporter described a telephone interview the article "People" one – Liu. In the interview, Liu Qingjian be denied the "foreign policy" reported in a number of statements. He told reporters that China's "Red Union" has started to hire a lawyer sued the United States, "Foreign Policy" magazine, also China's "Honker" an innocent.
"Sharp Winner of an unknown Chinese hackers began his career in urban high-rise apartment in a group of young people desperate for a smoke. Like this group, there are hundreds in this country. Hacker Attack is dirty work, the hackers have their lasted several hours. the organization's number one ace, a 'handsome, intelligent young man' is not panic, – in accordance with the "red-off situation," saying, Sharp Winner claims to rank youngest character when he finished by 'back door' invasion of the Japanese invaded sites, he rest a while, to his female fans sent several text messages. "- This is the" Foreign Policy "magazine begins. Article sharp winner they called the "unorganized hackers gangs," adding that "in SharpWinner2007 public view in years before he disappeared, leading the number 50000-100000 between members of the organization, regularly participate in international networks confrontation, including the White House in 2001 between China and the hacker's war – it was just the beginning. "The article also allotted a certain Liu himself to participate in China when a television picture.
"I" Foreign Policy "magazine reported that Chinese Honker wanton was very angry!" April 8, Global Network reporter telephone interview with Liu. He told reporters that, in late March, the German "Süddeutsche Zeitung" correspondent, said in an interview with them, they see the "Foreign Policy" magazine, which reported after contact with, "After I saw this article very angry, this is entirely to the Chinese 'Honker' discredit. "
Liu told reporters, "Foreign Policy" magazine mentioned in some of sharpwinner "network attack scenes" are actually from one of his unpublished novel "Red-off situation." the contents. He said: "what the book said, thousands of people around me to lead attacks on the network, which is simply the content of the novel, and the contents of this novel is entirely fictional, the foreign media is not talking 'autobiographical book'."
more dissatisfaction that Liu, the "Foreign Policy" magazine in the description of "Red China off" seems to have been in the network of malicious attacks. "In fact, China Red Union in 2003 after hackers will no longer participate in any action, and transferred to the field of network security, network security products and services." He said, China Red Union members to join on a very strict, not allows any malicious hacker attacks motivated to enter.
this end, Liu began to "foreign policy" made a e-mail, recover its innocence. He showed reporters the message content, to Liu, "Foreign Policy" magazine asked: "How did you write this magazine reporter has been SHARPWINNER permission is Mr. Liu Qing Liu reported on the content? Have been Liu Qing Liu published the photo to allow it? "" Your article reports, there have been many other media are very negative on Mr. Liu Qing's views, but also the people around us to form a bias for Mr. Liu Qing, of Mr. Liu Qing's work and life had a negative impact, I ask you why so distorted? in such a way to discredit Mr. Liu Qing's reputation? "However, to this on March 30 is sent to the" foreign policy "e-mail magazine is currently still not been each other's reply.
Liu told reporters that he had determined to put legal means. "China Red Union security experts have hired a lawyer to prepare for" Foreign Policy "magazine to institute legal proceedings, sued the violation of my reputation the right of portrait and I published the novel's copyright."
"This distortion of our foreign media, so that each 'China Honker' are deeply unfair, I even worry about this young Chinese network security and technical personnel have a negative impact." Liu told reporters last: "We are in the indictment has noted, "Foreign Policy" magazine to be published in a written statement of apology. "
As for compensation, Liu said:" 1 dollar, we require one dollar in damages. This is not money, which is China 'Honker' reputation and war. "