Global warming Okinotorishima or swallowed to build a base in Japan would like to bathing
Date:2011-09-01
Author:admin
Category:International military
Comment:0
Okinotorishima in Tokyo, Japan 1700 km south of the sea.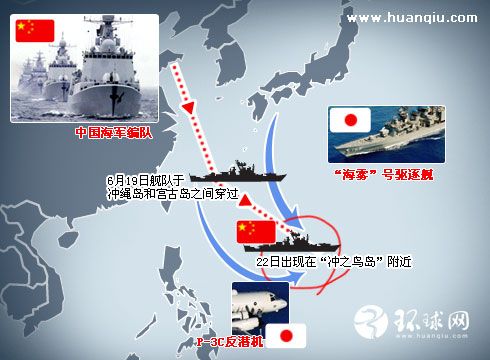 Japan's "Sankei Shimbun" reported on the 16th, the Chinese Navy was in June late in the "Okinotori" waters near reefs for the first time the military exercises over the diagram.
According to Japan's Kyodo News reported on December 1, the Japanese government held a morning "Integrated Ocean Policy Headquarters" (Prime Minister General Yukio Hatoyama) meeting, in order to maintain the exclusive economic zone (EEZ) and other waters under the jurisdiction on the protection and management of the Islands, Okinotorishima (Japan called Okinotori) and policy consultations. This is a regime change in Japan, the headquarters of the first comprehensive ocean policy meetings.
Prime Minister Hatoyama said at the meeting, "Japan's exclusive economic zone area ranked sixth in the world and if to the development, marine resources, Japan can become a big country and we need to improve the relevant basic principles, before steadily line. "decided to Cabinet in March last year by the" sea base plan "as a benchmark to develop the basic principles. As the effects of global warming sea level rise, Japan's southernmost Okinotorishima danger of being swallowed up. Basic principle will be similar to the islands for the object, to develop specific measures. The policy also includes improved base for development of marine resources, protect ecological environment of the Islands and their precious and other measures.
ocean policy act, who is also Minister of Land and Transport Minister Seiji Maehara, 11, 27, had a press conference that at present, the protection of the Islands coastline lack of effective legal protection. In order to protect Japan's sovereignty, he plans to Congress during the next year, efforts to improve routine Islands, Okinotorishima related "island" of Protection Act. Earlier, the Japanese government had planned in Japan's southernmost Okinotorishima built on military bases and port facilities.
in Okinotorishima issue, China always believes that Okinotorishima is "reef", rather than Japan argued that the "island" in accordance with relevant international law, as the Japanese have no right to set the continental shelf. Japan to take Okinotorishima making a fuss, but the film waters rich in rare metals coveted resources. In September, Japan proposed to the United Nations Commission on the Limits of the Continental Shelf, an extension of the South Pacific continental shelf application that is based on the Okinotorishima made. Once the application is approved, the Japanese will get Okinotorishima around 740,000 square kilometers of undersea continental shelf, this figure is twice the land area of ??Japan; Japan will also receive more than 400,000 square kilometers of marine exclusive economic zones, marine resources have mining rights. China has raised objections to the United Nations.