Remove the Soviet monument in Georgia blast killed two people (Figure)
Date:2011-09-01
Author:admin
Category:International military
Comment:0
city of Kutaisi in western Georgia, the controversial Soviet monument to the city center 19 has been destroyed.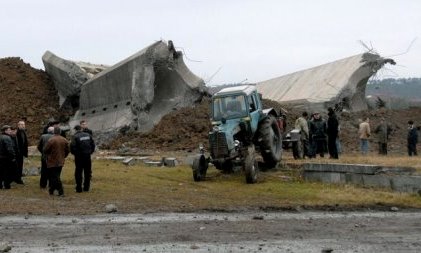 Kutaisi Soviet monuments after the burst. center of the western city of Kutaisi, Georgia
controversial Soviet monument to 19 have been destroyed, two deaths caused by blasting, people were injured.
According to Austrian media quoted the Georgian news site Civil.ge news portal reported that the deceased was a woman and her 8-year-old daughter. But the incident has not disclosed details.
Muer Ta Sisuo Prosecutor General of Georgia against the Delaware, said demolition work place safety regulations.
According to German news TV station ntv reported blast site has been blocked, but the pieces flew 200 meters from the monument to watch the crowd.
had had news that the Kutaisi municipal authorities plan in time for the December 21 bombing of Georgian President Mikhail Saakashvili birthday before the monument, the President will visit the city on his birthday.
Kutaisi city is located 287 km northwest of the capital Tbilisi, the authorities decided to dismantle this monument 46 meters high, where the Georgian parliament building new buildings.
Russia condemned the demolition of Georgia this memorial monument to Soviet soldiers killed during World War II practice. Plans monument destroyed the opposition in Georgia have also been criticized.
but Kutaisi city government argued that this is not the destruction but to migrate, they will be in another location to build a new monument. (BEIJING, December 20, Prague, electric yellow band)