Indian Army Ordnance Company to Buy a new world turning weapons
Date:2011-09-01
Author:admin
Category:International military
Comment:0
Israeli-turn weapons systems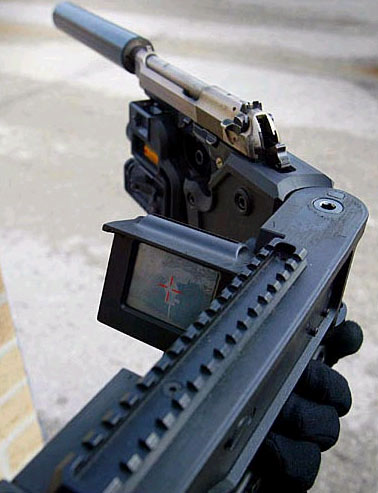 According to the U.S. Army pistol turning system
Technology Network January 4, 2010 reported that the Indian Army intended to make the soldiers involved in counter-terrorism operations for turning a way to purchase special weapons firing systems. Indian Army Ordnance Company have been countries in the world to send the information needs of the book, Buy with detachable with integrated high-resolution cameras and monitors turning rifle and pistol shooting, the Indian Army wants these companies to January 30, 2010 submit proposals.
According to an Army official said, with close combat weapons will help commandos in the building or across the room from corner to observe and target. United States, Israel and some other countries troops have begun to use such weapons, the barrel end camera installed, but can also rotate 60 degrees to the left and right 70 degrees, to be able to perform a search in the corner and Zhimiao shooting tasks. This new generation of weapons and equipment to effectively combat terrorists.
book, according to the information needs of the Indian Army's combat skills indicators, turning fire weapons must have more than 200 meters on the ability to effectively combat the target, and day/night targeting capability. This weapon system must also have the ability to transmit images to download and to accurately locate enemy forces and friendly forces to share information with others, so that commandos to attack targets in the best position. Because of the large number of weapons systems is a demand, so the Indian Army has expressed interest in the transfer of technology to local production in India, eventually the weapons.
(Northern Science and Technology Information Institute Liu Jing)