British think tank report said British troops may be cut one-fifth the size of
Date:2011-09-01
Author:admin
Category:International military
Comment:0
for budgetary reasons, the United Kingdom next generation aircraft carrier, "Elizabeth" class number was reduced to one building.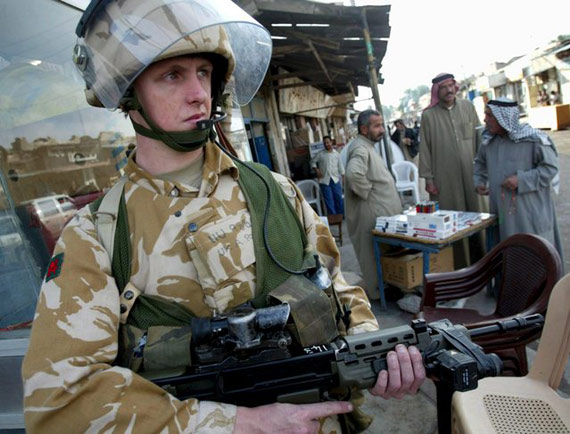 mission in Iraq, British soldiers.
China news agency, London, January 13 (Zeng Jingning) – England's think tank, "Royal United Services Institute" recently published studies have reported that Britain's defense budget would "inevitably" reduce, the size of the army may be reduced by one fifth.
The report pointed out that the British military personnel and equipment costs continue to rise, and in the context of financial difficulties, cut the defense budget would be "inevitable", had been trained military personnel may from the existing five past five p.m. million, a drop to 2016 of 140,000.
the report's author, Malcolm Chalmers, defense experts told the British Broadcasting Corporation interview, warned: "tough choices ahead of us, with limited savings alone have been sufficient to sustain Britain's defense capability and improve. "
he said, even under the" cautiously optimistic "scenario analysis, the Government's current financial pressure means that the Defense Department's budget in 2017 years ago, is likely to 11% annual rate of decline. In the next three years, 15 percent of annual budget reduction may also occur. Later this year, the military cuts will be inevitable, regardless of which political party after the election the ruling.
Institute predicted in the back should be, the British Ministry of Defense spokesman said, as various government departments, Department of Defense are also facing the challenge of economic conditions. But he reiterated that the British Prime Minister Gordon Brown has said that next year's defense budget will not be cutting a penny, but he could not provide a 2011 after a meaningful assessment, because future spending plans has not been determined.
British Conservative and Labour have said they will carry out the strategy in the post-election review of defense policy. The latest review was conducted in 1998.