India's Agni ballistic missiles, tanks made the National Day parade appearance (Figure)
Date:2011-09-01
Author:admin
Category:International military
Comment:0
India-made strategic missile Agni-III National Day military parade debut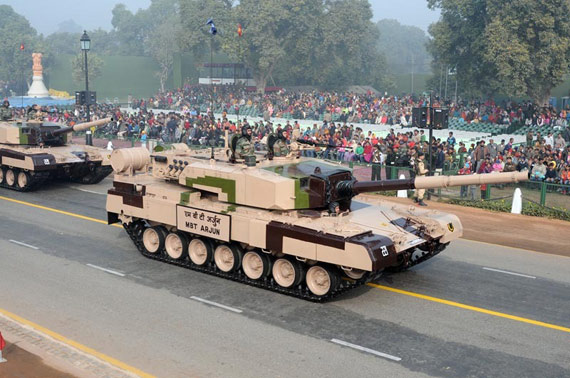 India Arjun main battle tanks made appearances

Indian Air Force A-50EI early warning aircraft and Su-30MKI fleet

Indian Army motorcycle stunt show in New
Society, Beijing, January 26th NEW DELHI: India ushered in on 26 60th anniversary. The armed forces of "Alone weapon" kick in the celebration parade debut.
scheduled 26 am local time at the celebration was postponed due to heavy fog hit New Delhi to noon. In the Indian Prime Minister Manmohan Singh, South Korean President Lee Myung-bak's visit to India, the Indian armed forces commander and other senior officials watched, the Indian arsenal of "weapons headed" in the celebration parade was on display one by one.
by the reading of the Indian Army shows modern main battle tanks and armored vehicles, including the Indian-made tanks, amphibious armored reconnaissance vehicles, infantry combat in India developed its own cars and bridge vehicles, etc.; In addition, Russia system "Si Mengqi" multi-barrel rocket launchers, "萨姆尤克塔" (Samyukta) electronic warfare systems and other new weapons are parade debut.
one hundred forty-eight sailors with an Indian "Shivalik" number (Shivalik) model to accept a review of stealth frigates. Indian Navy's upcoming "Shivalik" was stealth frigate is equipped with anti-missile defense system, low-noise propulsion and other advanced weapons, can greatly enhance the Indian Navy's combat capability.
day to participate in the parade of planes, including Air India, Israel, the latest from the introduction of "Phalcon" airborne early warning aircraft, the Soviet Union – 30 MKI fighter aircraft, etc.; appeared in the parade of missiles, including India's longest-range "Agni – three" ballistic missiles, surface to surface missiles can carry nuclear warheads, etc., the latter of which range up to six hundred kilometers, with a launch, easy maintenance, the enemy can not easily be found and so on.
26 January each year, India will be held in New Delhi's King's Road, including the parade, including the National Day parade celebration. Usually open throughout the procession to cavalry and four meters – 17 helicopters will be sprinkling petals audience began to review the helicopters and fighter jets flying on the end, but this festival in New Delhi fog, the helicopter's "Sahua" ceremony was canceled .
as a four ancient civilizations in India as early as BC has formed a unified country, but Two years became a British colony. In 1947, Britain announced that India-Pakistan partition scheme, India achieved independence. January 26, 1950, India signed the constitution, declaration of a republic, this day they have been designated as National Day of India.
have _COUNT_ Comments I want to comment
. otherContent_01 p {line-height: 23px; margin: 0px;}
Related reading:
Photos: India's latest military-type weapons and stunt motorcycle parade debut
Photos: India's Agni III missile coming out of the Republic Day parade rehearsal
show parade held in India to buy new equipment Ji Nianmeng terrorist attack (Figure)