Home
»
China military
» Beijing SWAT thousand one hundred large-scale anti-terrorism exercise vehicle (Photos)
Beijing SWAT thousand one hundred large-scale anti-terrorism exercise vehicle (Photos)
Date:2011-08-31
Author:admin
Category:China military
Comment:0
wearing a" color of camouflage, "the special police sniper debut

SWAT team with an explosive device close to the" robber suspect vehicle "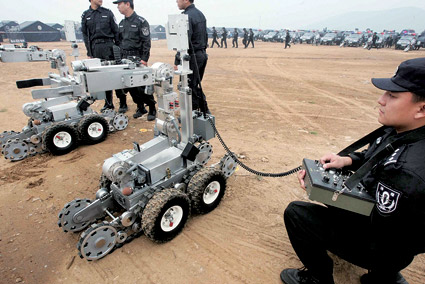 SWAT EOD robot manipulation exercises
"I volunteer to become a police SWAT team members the capital, train hard, tackle hard." 10 suburban counties newly formed SWAT team gathering Yanqing Beijing Public Security Bureau patrol base sworn special police corps .
Today, the city's largest anti-terrorism exercise begins. Managing the city's 18 districts and counties will be fully covered by the special police force dealing with the emergency.
morning, the red and blue lights flashing, thousands one hundred cars lined up neatly. Beijing Municipal Public Security Bureau FuZhengHua dressed in SWAT training uniform for the patrol special police corps of 24 combat team flag.
morning, dozens of soldiers holding 85 high-precision sniper rifle, 18.4 anti-riot guns, 95 automatic rifles and 92 pistols and other firearms, patrol and special standard for a variety of live firing exercises.
"boom" is heard, two explosion explosion ignited a large fire mission, special police team has just crossed over the high temperature combustion zone, lift logs continue to move forward, but in much closer received the baptism of fire twice.
"four criminals driving from the foothills to the mountains of escape …" police found two explosive devices inside the "suspected car robbers" in his dogged, the suspect fled into the car mountains. Special police search of the mountain storm vehicles immediately conducted a search. Text/photo intern Li Yu/Reporters Cao Bo far