Xu: Ethiopian troops is a good friend good partner of China
Date:2011-08-31
Author:admin
Category:China military
Comment:0
6 29, the Central Military Commission Vice Chairman Xu Caihou met with the Ethiopian army chief of staff Admiral Zamora ? You Neisi. Li Xiaowei She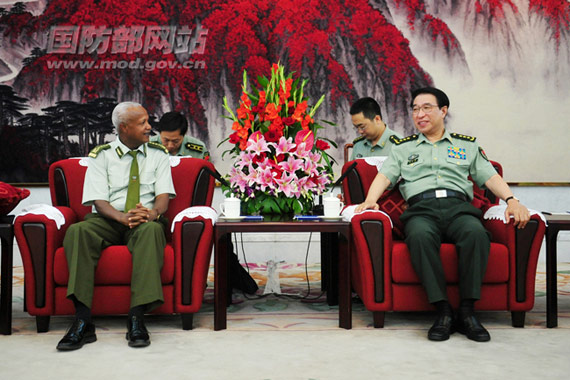 6 29, the Central Military Commission Vice Chairman Xu will be meeting with the Ethiopian army chief of staff in particular, Zamora ? Ness will. Li Xiaowei She
Beijing, June 29 Xinhua correspondent Lv Desheng report: the Central Military Commission Vice Chairman Xu Bayi Building this afternoon, met with the Ethiopian army chief of staff of Zamora and his party.
Xu said, in angstroms long history of friendship between the two peoples. In recent years, the two sides enhanced mutual political trust, fruitful economic and trade cooperation, cultural exchanges become more frequent, in international and regional affairs and maintained close communication and cooperation. Government of Ethiopia concerning China's core interests and major issues its precious support for China deep appreciation and gratitude.
Xu said that Ethiopian troops are the Chinese army friends and good partners. Close high-level exchanges, personnel training in the areas of fruitful cooperation. China cherishes the traditional friendship Aye, Aye willing to work together with the 40th anniversary of establishment of diplomatic ties as a new starting point, all-round development and deepening of military cooperation in various fields, to the Aye-round cooperative partnership to a higher level.
Xu also briefed the guests on China's domestic development of the situation.
Zamora said that this is his first visit to China during the visit, he witnessed China's great achievements. Exchanges and cooperation with China side benefit that Aye, Aye hope to further strengthen cooperation in the military, to promote bilateral military relations.
Qi Jianguo, Assistant Chief of Staff, the Ethiopian Ambassador to 海尔基洛斯 present at the meeting.