Home
»
International military
» U.S. media speculation that the U.S. leader killed in East Turkistan is intended to win China's support
U.S. media speculation that the U.S. leader killed in East Turkistan is intended to win China's support
Date:2011-08-31
Author:admin
Category:International military
Comment:0
Abdul Haq (aka Mamtimin Mamat).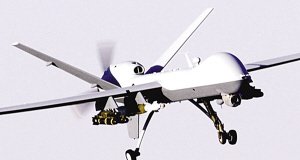 U.S. drone missile equipment.
According to March 3, 2010 issue of "Global Times" reported on the 2nd, Deputy Secretary of State Steinberg and other senior U.S. officials visited China recently been strained Sino-US relations seem back to life. In this context, some U.S. media that U.S. forces killed the "East Turkistan" leaders more profound meaning. "Prospects of world politics," 2 article said that the current Sino-US relations strained, and we also want China to vote in favor of sanctions against Iran, the CIA put in the Waziristan region "East Turkistan" terrorists as targets obviously there is a deeper meaning. The article said that the long term perspective, such a generous treatment of a potential geopolitical rival is questionable, but the moment both in Afghanistan and Iraq, the United States, more are needed in China, instead of losing China.
recent years, the name of fighting terrorism against the United States in the "base" organization at the same time, it refused to many of the "base" linked "East Turkistan" elements identified as terrorists, and even refused to Guantanamo "East Turkistan "elements to the Chinese, this double standard by some experts believe is one of the factors affecting Sino-US relations. China Institute of Contemporary International Relations, U.S. experts believe that spring cattle in the United States in the eyes of the "East Turkistan" is actually divided into several categories, the United States and fight against "East Turkistan Islamic Movement" such as terrorist organizations, and support the use of non-terrorist methods of struggle for independence "East Turkistan" forces, on this issue, a serious confrontation between China and the U.S. position.
Chinese anti-terrorism expert Li Wei, "Global Times" said that in the fight against terrorism, the international community requires a shared obligation, if the U.S. media that killed Huck is beneficial to China, the starting point is wrong of. Huck is not killed specifically for the U.S. to take action. He said this is the "East Turkistan" and "base" is another evidence of collusion, and this collusion can not die any time soon, which is in western China pose a threat. Therefore, the international community should "East Turkistan" to adopt a more stringent approach, which is more favorable situation in world terrorism. (● newspaper went to Afghanistan, the newspaper correspondent Qiu Yongzheng Hao Zhou ● special correspondent in Pakistan, Chen Tao Zhou Rong ● short room)
"Global Times" of copyright works, when the newspaper without the written authorization of the global is forbidden and offenders will be held liable.