Home
»
China military
» Xu met with cloth Former U.S. National Security Advisor Zbigniew Brzezinski
Xu met with cloth Former U.S. National Security Advisor Zbigniew Brzezinski
Date:2011-08-31
Author:admin
Category:China military
Comment:0
7 12, the Central Military Commission Vice Chairman Xu will be meeting at the Bayi Building, the former President of the United States National Security Adviser Zbigniew Brzezinski. Li Xiaowei She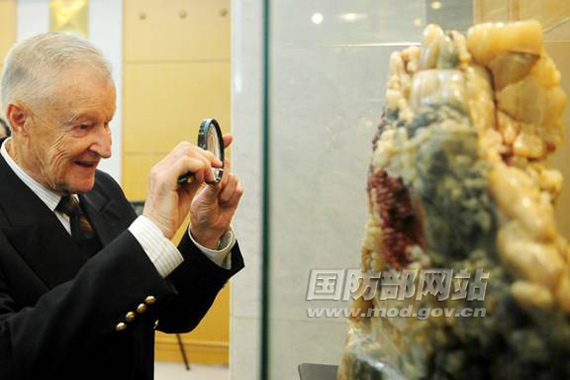 Brzezinski meeting hall carefully watch the Long March sculptures on display. Li Xiaowei She
Beijing, July 12 Xinhua correspondent Lv Desheng report: the Central Military Commission Vice Chairman Xu Bayi Building this afternoon, met with former U.S. president's national security adviser Zbigniew Brzezinski and his party.
Xu Brzezinski introduced to the meeting hall of the Long March sculptures on display, said China is now engaged in the construction and reform is the new Long March. Stick to the road of peaceful development, China's long-term strategic choice.
Xu said Sino-US diplomatic ties 30 years of history has proved that China and the U.S. not only can coexist peacefully, but also common development. The two sides should be compatible and not antagonistic in accordance with, a win-win rather than zero-sum thinking, and properly handle the current era as well as the future of bilateral relations and international affairs. China's development, will enable Sino-US cooperation in broader fields.
Brzezinski said that China's economic and social fields over the years achieved admirable. United States and China should be all-round strategic dialogue, enhance communication and coordination, the international community together for peace and stability efforts.
Xu on Brzezinski on strengthening China-US strategic dialogue between the two countries appreciated the suggestion that, at the same time hope that the U.S. strategic circles of friends than a look to China to strengthen bilateral exchanges between the objective truly understand China and China's development objective truth to the American people information about China, to promote the development of Sino-US relations more active work.
the two sides on international and regional security issues and exchanged views.
Brzezinski and his party are invited by China Institute for International Strategic visiting. Deputy Chief of Staff, President of China Institute for International Strategic Ma Xiaotian, present at the meeting.