Home
»
China military
» PLA air defense exercises simulate enemy aircraft out electronic surveillance (Figure)
PLA air defense exercises simulate enemy aircraft out electronic surveillance (Figure)
Date:2011-08-31
Author:admin
Category:China military
Comment:0
8 3 May, the artillery unit participated in exercises in place quickly.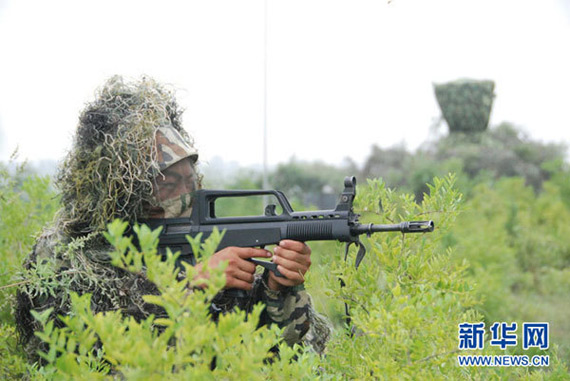 8 3, a soldier participating in the implementation of security duty. Xinhua News Agency (Cuijiong Chen photo)
Xinhua Jinan, Aug. 4 (Xinhua correspondent Meishi Xiong, Wang Nannan) "avant-garde 2010″ large-scale air force exercise, 4 in full swing "early warning surveillance," "information confrontation" and "air combat" operations, focusing on means of access to information to solve many, many ways to transmit information, multi-way integration of information, more ways to organize information protection as well as between day and night-to-air combat tactics and other issues.
8 o'clock, Analog "blue" number of electronic reconnaissance aircraft from a coastal city of Shandong Peninsula off of in Shandong, Henan, uninterrupted implementation of the surveillance unit. Shandong, Henan Military District and the Army air defense forces, quickly receiving the higher the briefing, a comprehensive analysis of real-time air situation, reconnaissance early warning command to start operation; reconnaissance and early warning system to immediately receive, detection, transmission, processing, air situation information.
According to director, commander, Jinan Military Region Minister Li Yadong introduction, Jinan Theater has been initially established Junjingmin integration, land, sea, multi-dimensional one-day electronic surveillance and warning system. Exercise, they joint reconnaissance, early warning, command platform relies on an integrated theater, sharing of intelligence resources, the timely transmission of air situation early warning information, closely monitor the "Blue Army" action.
10 o'clock, Analog "blue" in the early detection, based on the information before the raid commenced operations, air defense forces of the two provinces in Lu Yu's command and communications, reconnaissance, early warning systems and to interfere with the transmission network suppression. Reporters saw the "Blue Army" of the number of aircraft electronic jamming aircraft to air defense troops of the electromagnetic interference. The integrated use of multiple means of air defense forces to deal with "blue" information attacks, to keep communication system is stable, smooth reconnaissance, early warning systems, transmission network security.
from 12 pm, "tragic" action of air combat began. Analog "blue" of UAVs, fighters, helicopters take off, take low-altitude penetration, long-range precision strikes and other means, Shandong, Henan Province, military and air defense forces of the Army combat, combat ready delay its action.
soldiers participating in joint air defense operations under unified command headquarters, using a variety of reconnaissance, early warning means to obtain the "Blue Army" incoming information; the use of integrated information transfer platform, real-time transmission air situation information; the use of air defense command platform, command of the air defense unit to fight the implementation of joint actions; use a variety of military and security forces, the implementation of joint security operations.
Under the arrangement, the air combat operations will continue to 5, 6 pm. All participating officers and soldiers will spend a sleepless night.
related topics: PLA Army 83 Anniversary