Home
»
International military
» Vietnam military to retain soldiers in guerrilla-style war between men and women sacrifice a considerable number of
Vietnam military to retain soldiers in guerrilla-style war between men and women sacrifice a considerable number of
Date:2011-08-31
Author:admin
Category:International military
Comment:0
participate celebration of military service.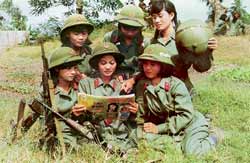 training gap female.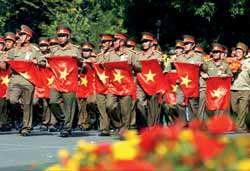 at the important events or major events, veterans also took part in reviewing the parade.
author and for the map/clock sea
as a result, I worked with the Vietnamese People's Army had a number of contacts, the army's unique style left a deep impression.
from the Vietnamese People's Army guerrilla war started, the scale of growth, still retains the characteristic color. Such as large-scale rarely focused action, to see mostly scattered small-scale training.
Vietnamese army so that the style is likely to geographical conditions and climate of a relationship. Vietnam's hot climate, and the dense jungle, land strip. Therefore, the formation of guerrilla war tradition of decentralized operations, and then penetrate into the daily management and training.
the war years, the Vietnamese People's Army response to U.S. firepower advantage, the use of covert operations scattered individuals, the night quickly focus on a small force to penetrate to the designated place of collection of attack, fighter combat capability is very strong man. Thus forming a unit after a long period of time, military affairs and the House system is more flexible, there is much room for random disposal of commanders and soldiers daily.
Vietnam "Compulsory Military Service Act" stipulates that male citizens regardless of ethnic, social composition, religion, educational level, occupation and area of ??residence, have military service obligations. In times of war, according to national needs, women and citizens must also be enlisted in appropriate work. Ordinary soldiers of the service for 2 years, technology soldiers in the naval soldiers serving on ships, and command positions such as deputy squad leader of the soldiers serving a period of three years. Soldiers served the prescribed period of military service, may voluntarily extended service. Soldiers have expertise, can be converted to professional soldiers, military age for up to 50 years old. Therefore, the army in Vietnam, often can see a great age of the soldiers.
world-famous Vietnamese female, in the past only to fight on the battlefield, but also to aid the wounded, cooking and cleaning. Therefore, during the war several times, at the expense of the number of female and male soldiers, roughly equal, but also a lot of female war hero. In the war against the United States there have been female with a machine gun lay-plus U.S. military aircraft, female explosives to destroy enemy tanks to get the records.
in times of peace, the Vietnamese army units in both primary female. Vietnamese military men and women to achieve a 3:1 or 4:1 ratio of essential and directly into grass-roots companies. The female and male soldiers living together in the grass-roots companies, usually with male soldiers as training, to work together.