Home
»
China military
» Brazil's Defense Minister, said China will deepen with the Department of Defense Joint Commission mechanism
Brazil's Defense Minister, said China will deepen with the Department of Defense Joint Commission mechanism
Date:2011-08-31
Author:admin
Category:China military
Comment:0
Liang talks with Brazilian Defense Minister Jobim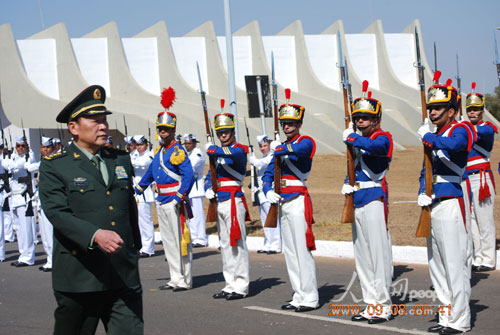 Brazil Liang reviewed a military honor guard

Brazilian Defense Minister Liang granted to the Medal of
People Brasilia, September 8 (Xinhua correspondent Wu Zhihua) Chinese State Councilor and Defense Minister Liang will be morning here with Brazilian Defense Minister Nelson Jobim held talks on bilateral military relations and issues of common concern and exchange of views.
Both sides agreed that peace and development are the times we are facing major challenges. New challenges for developing countries to further strengthen cooperation and jointly safeguard the interests of developing countries, promoting regional and world peace and stability.
sides pointed out that military relations is the strategic partnership between China and Pakistan an important part. Strengthen military defense and security affairs in cooperation will help to enrich the connotation of bilateral strategic partnership and promote bilateral ties. The two sides in recent years, education and training high-level military visits and cooperation to achieve positive results on satisfaction.
Both sides expressed the need to further strengthen the groups contacts, enhance mutual understanding and trust. Department of Defense to further deepen bilateral mechanism between the joint committee to promote pragmatic cooperation. Continue to strengthen personnel training and training exchanges, strengthen cooperation in international peacekeeping, air traffic control and flight safety cooperation.
talks, Liang reviewed the guard of honor of the Brazilian armed forces. After the meeting, Brazilian Defense Minister Jobim Liang awarded to Brazil "defense of Merit."
attend today's meeting and the event were Chinese Ambassador to Brazil Qiu Xiaoqi, Liang's entourage and the Chinese Embassy in Brazil and other military attache Colonel Yang Chaoying.
State Councilor and Defense Minister Liang will be September 7 arrived in Brasilia, Brazil began a four-day official visit.