Indian submarine base with the same latitude Chinese nuclear submarine base in Hainan
Date:2011-08-31
Author:admin
Category:International military
Comment:0
spread of the Internet's first Indian-made ballistic missile submarines, allegedly in a recent poster has finally emerged in a large part of the hull.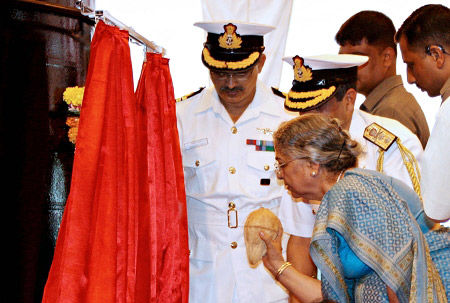 data for: count the number of nuclear submarines launched last year when Singh Lady in the first cracking a coconut boat to celebrate. At that time the official body count is given only a partial picture
submarine LONDON, June 14: India's Dnaindia.com website on the 12th, the east coast of the Indian Navy is building a secret submarine base. The construction project was named "Varsha", to be built Zhubo its submarine fleet.
first ship made of "advanced technology boat" (ATV) "body count" nuclear submarine in the last year in the port city of Visakhapatnam in eastern India, the Hindustan shipyard into the water. According to reports, the current "F those numbers," nuclear submarine shipyard is still the key to accept the certification.
Indian Navy plans to construct in the Hindustan Shipyard five such submarines. India's Ministry of Defense last year took over from the sailing Hindustan Shipyard. As a result, it can use the shipyard's facilities and infrastructure construction submarines.
Varsha under construction in the new submarine base will have special features to ensure maintenance personnel on the submarine and boat safety. According to sources, because the need for the construction of the submarine base materials used in the manufacture of special equipment and special attachments.
The source also said the base is located away from Visakhapatnam, about 200 km of an unknown area, with the Chinese nuclear submarine base in Hainan, the same latitude. New boat for submarine base on housing and other facilities used by the officers and men. Moreover, if demand, the base can also accommodate other submarines and warships. Taking into account the Indian Navy commissioned by the Navy in the near future a large number of ships, these submarines may be space constraints.
sources refused to disclose the investment in construction projects and new bases have special facilities for the missile, known as "clear base to be completed. Since this is a special project, mainly for Zhubo nuclear submarines, it will take some time. "(Spring)