Home
»
China military
» Chinese paratroopers Quest: 80 meters above the vertical rope with both hands down alone
Chinese paratroopers Quest: 80 meters above the vertical rope with both hands down alone
Date:2011-08-31
Author:admin
Category:China military
Comment:0
participate in parachute performance" down to earth fairy "- Wuhan female paratroopers Fan Cheng. Reporters Yonggang photo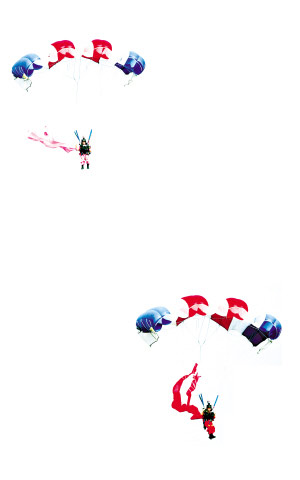 airborne parachute performances – "fairy." Reporters Yonggang photo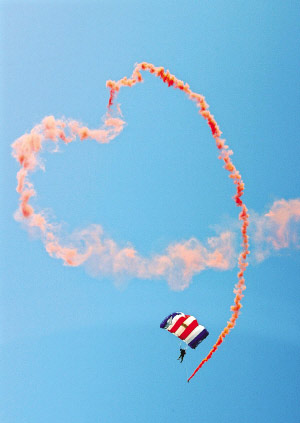 parachute performances -" rapid fall. " Reporters Yonggang photo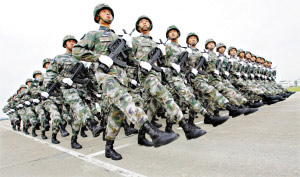 army airborne infantry phalanx correspondent Yonggang photo
" Creation "Quest
correspondent Dong Xiaoxun correspondent Zhaoqi Hong
60 years ago, one more branch in the People's Liberation Army – Airborne. After 60 years of development, this increase from the original parachute infantry team to grow as a team with: special forces, helicopters, air transport, airborne medical care, communications and other arms, with the "Fury, fast, dedicated" spirit, with "ready to fly everywhere, can be reduced, lowering the play, playing and winning" full operational capability, positive information into the strategic assault force of the "heavenly."
Special Forces:
80-meter air alone is hands down the vertical rope
2000, the the formation of airborne special forces brigade, has on the plateau, the next island, go to cold regions, Ben jungle, complete aerial wing umbrella armed infiltration, the more attack and low-altitude parachute parachuting vertical, helicopters downhill, between day and night armed swimming, wilderness survival, mountain rock climbing training. Trained to keep away, in the short-range reconnaissance and combat skills emergency mobile.
the deputy brigade commander Wang Yalin, deputy political commissar of the Chinese national Hu is China's first special training to participate in the international anti-guerrilla members, 38 subjects who completed the "beast camp" style training, was awarded the Venezuelan military. " Hunter "Medal of Honor.
Wang Yalin introduction, the group of heavily armed soldiers can be in each helicopter 80 meters above the ground the air, relying on the rope with both hands vertical drop; movement emergency stop shooting, assault rifle or pistol, whether their targets are ; was able to climb climbing Rulvpingdi; unarmed combat with the enemy, there is an effort to recruit a private enemy; field training, each weight 30 kilograms, only with 150 grams of rice, hundreds of kilometers can still raid fight.
The brigade worked in Israel, Venezuela, Turkey and other countries held anti-terrorism and special operations training, amphibious reconnaissance organization headquarters and special operations training and other tasks to show their talents. Participated in dozens of exercises at home and abroad, the emergence of "airborne fifteen warriors" and other advanced models.
2005 years and is currently a helicopter airborne battalion of Mu Chunjiang, leaving Garrison, a mountainous northern Hubei headlong into the old barracks, the formation of a helicopter airborne brigade.
with Muchun Jiang as saying: "helicopter airborne brigade to add the 'vertical combat' dagger weapon." In combat there are three major features: the use of their mobility and combat capability, and attack enemy radar position against the enemy in the area of ??airborne forces and anti-airborne defensive support forces; can use low-flying ability, to play on the armored vehicles of the "killer" role, protecting airborne operations; air fire support, quickly cleared the ground for the airborne obstacles, and and airborne assault vehicles in close cooperation to improve the effect of airborne assault.
the brigade set up five years, with the aircraft in place, but three years, the helicopter pilots can be fast through the clouds, deftly passing the ridge, close to the valley trees flying, low altitude at 40 m, hovering, dipping, has forged a "bad weather to fly", "complex terrain to fight" capability.
helicopter:
40 米 low altitude hover dipping
air transport group :
safety parachute airdrop 100 million vehicles
yesterday, the number of silver-white Hawk aircraft up into battle formation, from exercise field to enter a designated airspace. Soon afterwards, dressed in desert camouflage paratrooper floated down from the rear.
regiment formed in 1964, responsible for air transport and equipment, and materials paratrooper airdrop missions, security parachute airdrop 100 million vehicles, could become a Weapon of War, fighting and winning the "depth of interest sword. "
model developed by a single regiment has three kinds of models of combat troops, to achieve a single joint parachute training operations to ensure transport security across. The first long-range attack, continuous mobility exercises, on a continuous motor seven provinces, long-range attack 6161 km, 16 hours and 45 minutes flight safety. It is approved: the exercise of the same models continuously refresh mobile, long-range attack longest route across the longest time record.
airborne health care team:
female players to run five kilometers every morning and evening
in airborne team, a group wearing red "cross" the female is particularly striking armband, they are airborne female health care team members.
at the drill site, the Minister of the Department of Logistics Jiang told reporters, these female players can jump off and become airborne qualified woman is not easy. Ground before the parachute training: running every morning and evening a 5 km less than 100 2-meter platform, rings training, day, female players are not moving legs jump lift, bend less than the waist, people need to go to bed at bedtime help. Platform training, knees, toes, heels and tight three-point, some members of the training results are not ideal, from top to bottom with the rope tightly wrapped around the legs together.
2000 airborne medical team was set up since they did to ensure that at any time pull out, get down under the protection of precise, known as the "paratroopers 'Nightingale'."