Home
»
China military
» SCO anti-terror military exercise held in campaign implementation phase military exercise (Figure)
SCO anti-terror military exercise held in campaign implementation phase military exercise (Figure)
Date:2011-08-31
Author:admin
Category:China military
Comment:0
exercise, disguised Kazakh tanks in advance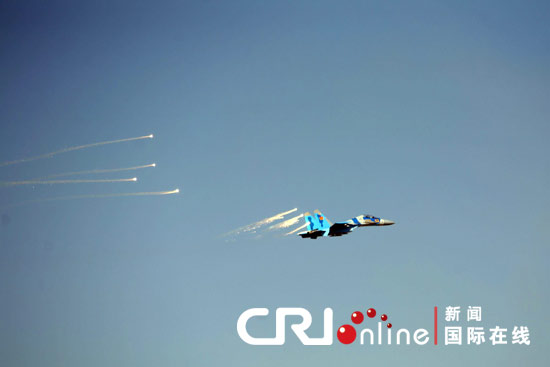 Kazakh Su-27 fighter jets fired flares
international online news (reporter Liu Dongwei): 24, "Peace Mission 2010″ SCO member states joint anti-terrorism military exercise in the armed forces battle the implementation phase of military exercise in the training field in southern Kazakhstan Matt Blake held.
China, Kazakhstan, Russia and Kyrgyzstan defense minister, first deputy chief of staff, and Tajikistan on behalf of the SCO regional anti-terrorism agencies to wait until the scene to observe.
whole 11 am local time, 3 rounds of red flares leapt to the sky, military exercise began. Tightly around the joint anti-terror drill started the subject. Exercise to be, the terrorist armed groups attempt to occupy the border area separate settlements, to strengthen the control of occupied territories, the establishment of an independent "autonomous body." SCO joint forces cluster decided by the depth of attack, a terrorist organization to find and undermine the implementation against its destruction, ambush activities, combat operations, day and night at the Air Force combat and artillery fire support, chase and kill the enemy to retreat.
The exercise is held within the framework of SCO joint military exercises of the seventh. 16-day consultation exercise is divided into strategic, operational preparation and implementation of the three stages of the battle. A total of 5,000 troops participating parties who participated in the exercise equipment, including tanks, armored vehicles, more than 1,600 units, artillery and rocket launchers and more than 100 doors, 50 fighter aircraft and helicopter gunships. China sent 99 tanks, 100 assault gun, 92B wheeled infantry fighting vehicles, and the Air Force's "Jian Shi" and "H-6″ and made a high level of equipment. These equipment have participated in the 60th anniversary of New China's National Day parade is the first time in cross-border long-range delivery and overseas live-fire exercises.
participating States will also be the night's action to suppress the enemy base, the military exercise will end local time 21:30.
related topics: SCO Peace Mission 2010 military exercises