Home
»
China military
» I hospital ship and escort fleet in the Gulf of Aden drills held medical care
I hospital ship and escort fleet in the Gulf of Aden drills held medical care
Date:2011-08-31
Author:admin
Category:China military
Comment:0
10 月7, is implementing the "Harmony Mission 2010″ mission "peace Ark" the sixth installment of the Chinese Navy hospital ship and escort fleet in the Gulf of Aden code-named "Blue Ocean Angel 2010″ medical aid coordination exercises. Xinhua News Agency reporters Cha Chun and Ming She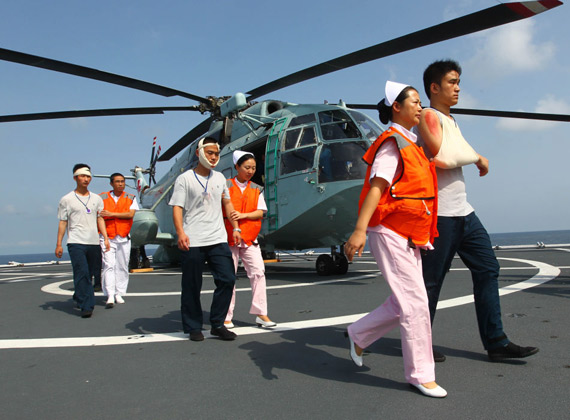 peace Ark hospital board's new carrier-based helicopter emergency ambulance transport" wounded "
Xinhua" peace Ark "Oct. 7 (Xinhua correspondent Wu Dengfeng) is implementing the "Harmony Mission 2010″ mission "Peace Ark" hospital ship, 7, and the sixth installment of the Chinese navy fleet in the Gulf of Aden to escort code-named "Blue Ocean Angel 2010″ medical aid coordination exercises.
This is the first time the Chinese navy ocean organizations, non-war military medical care coordination exercises. Chinese Navy "Peace Ark" hospital ship, "Lanzhou" missile destroyers, "Weishan Lake" comprehensive supply ship and made a new aircraft carrier, ambulance helicopters took part in the exercise, the Navy commander of the East China Sea Fleet base in a security package, Major General Yu-ping served as commander.
drill to place a merchant ship attacked by pirates mass casualty background, focused on training in a single vessel, fleet hospital ship at sea three aid station and medical care system, command coordination, casualty treatment and evacuation, remote medical support, etc., to enhance the Navy's sea medical support capability.
exercise, "Lanzhou" missile destroyers, "Weishan Lake" comprehensive depot ship, one ship, save the merchant fleet of the sick and wounded on the first aid and emergency treatment, then by helicopter to the medical aid critical connected to the evacuation of patients "Peace Ark" hospital ship for early treatment and some specialist treatment. Medical diagnosis system and remote support system is far Cheng Weiqin help, hospital ships and Beijing, Shanghai, medical and health service experts, medical and evacuation of the hospital ship to carry out joint consultation and advice, in stable condition after the wounded, through the headquarters offices The ICRC will coordinate the evacuation of the wounded nearby countries.
"Blue Ocean Angel 2010″ exercise commander Major General packet Yuping, with the implementation of the Navy sea of ??non-war military tasks increased, the ability to enhance the medical care far from the sea has become a serious problem. This exercise, and improved naval ships voyage medical care system, and explore the ocean navy medical support system to organize, command, coordination, management and use of new mechanisms, new models and new theories, not only to fill the sea single ship aid station, formation aid station and the hospital ship at sea three coordinated medical care system started empty, but also through the first time, the domestic medical institutions with far Cheng Weiqin consultation, the first exploration and overseas shore-based medical collaboration mechanisms, led to the medical hospital ship enhance the ability of the ambulance.
related reports:
Photos: Navy fleet in the Gulf of Aden at the medical aid coordination exercises