Home
»
China military
» Singapore and Indonesia met with Defense Minister Liang gratified to broaden areas of cooperation
Singapore and Indonesia met with Defense Minister Liang gratified to broaden areas of cooperation
Date:2011-08-31
Author:admin
Category:China military
Comment:0
10 12, Chinese State Councilor and Defense Minister Liang will be met with Indonesian Defense Minister Purnomo. Li Xiaowei She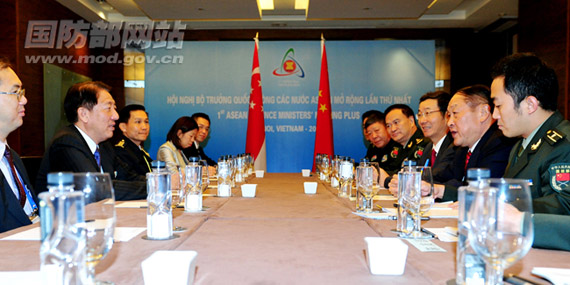 10 12, Chinese State Councilor and Defense Minister Liang will be met with Singaporean Deputy Prime Minister and Defence Minister Teo Chee Hean. Li Xiaowei She
Xinhua News Agency, Hanoi, October 12 – (Reporter Li Qing, Yang Yi) is the expansion of ASEAN defense ministers in Hanoi, Vietnam will participate in China's State Councilor and Defense Minister Liang afternoon of 12 will be met with Singaporean Deputy Prime Minister Indonesian Defense Minister Defense Minister Teo Chee Hean and Purnomo.
meeting with Minister Teo Chee Hean, Defence Minister Liang expansion will be successful on the ASEAN meeting to congratulate the parties concerned have made active efforts highly.
Liang said the establishment of diplomatic relations 20 years ago, the field of defense cooperation between the two countries have made gratifying progress. Both high-level visits, exchanges and cooperation to carry out various forms. Chinese army is ready and the Singapore armed forces, to continue to deepen cooperation in various fields, strengthen the enlarged ASEAN defense ministers and other communication and coordination of multilateral mechanisms to promote development of bilateral relations and safeguard peace and stability in the region to play an active role.
Teo Chee Hean said that Defense Minister Liang led a delegation to participate in the enlarged ASEAN, China's constructive participation in Southeast Asian affairs embodied. In recent years, new in the two defense departments and armed forces in the high-level exchanges, policy dialogue, cooperation in the escort has made positive progress. Hopes the two sides enhance mutual understanding and trust, expand cooperation areas and learn from each other and promote the constant development of military relations.
meeting with Purnomo, Liang said, in recent years, China-Indonesia relations have maintained a good momentum of development, military relations as an important part of bilateral relations, has also been a welcome development. China and Indonesia to strengthen mutual trust and cooperation in military field, the fundamental interests of both peoples. Chinese army is willing to make joint efforts with Indonesia's military, expand areas of cooperation, innovation and content of cooperation, the military relations to a higher level. China is also willing to work with Indonesia to strengthen the mechanism to expand the ASEAN secretary of defense under the communication and coordination and safeguard common interests, to make a positive contribution to regional peace and stability.
Purnomo warmly congratulated China and Indonesia established diplomatic relations 60 years ago. Purnomo said that Indonesia's military is willing to discuss with the Chinese military in the defense, military training, exchange institutions, humanitarian relief, international and regional affairs as well as deepening cooperation. Military cooperation will further strengthen the development of bilateral relations and create more opportunities, and promoting regional peace and stability.