Home
»
China military
» Hillary lightning visit to the United States want to interfere in China Hainan territorial disputes around the
Hillary lightning visit to the United States want to interfere in China Hainan territorial disputes around the
Date:2011-08-31
Author:admin
Category:China military
Comment:0
Hillary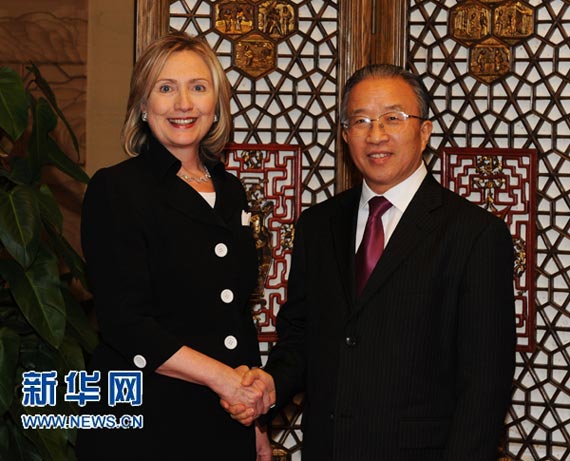 10 30, State Councilor Dai in Sanya, Hainan Province with U.S. Secretary of State Hillary Clinton held an informal meeting. The two sides in a frank and friendly atmosphere on Sino-US relations and issues of common concern in-depth exchange of views. Xinhua News Agency reporters Jiang En and Yu She
State Councilor Dai 30 in Sanya, Hainan Province with U.S. Secretary of State Hillary Clinton held an informal meeting. The two sides in a frank and friendly atmosphere on Sino-US relations and issues of common concern in-depth exchange of views. On the same day, Foreign Minister Yang Jiechi at the East Asian leaders meeting in Hanoi, met with U.S. Secretary of State Hillary Clinton. On bilateral relations and exchange views on issues of common concern.
[AFP, Sanya, October 30 -] Title: Hillary lightning visit to China
U.S. Secretary of State Hillary Clinton 30 in China's Hainan held with Chinese State Councilor Dai talks. A photographer said Dai airport lounge in Sanya, met Hillary.
This is Hillary Clinton in less than two years, the sixth visit to Asia, with China and its purpose is "calm and constructive diplomacy", while improving U.S. ties with Pacific countries.
Earlier today, she was in Hanoi with the Chinese Foreign Minister Yang Jiechi had a meeting, called on the United States Yang Jiechi said China and Japan in the sovereignty dispute on the island to avoid "irresponsible remarks."
two sides also discussed China's rare-earth policy disputes. Clinton said, Yang said China has no intention to control the market on rare earth supply.
[Reuters, Hanoi, October 30 -] U.S. 30, a senior official said the United States today told the Chinese, the U.S. hopes China and Japan over territorial dispute led to ease tensions, and proposed to hold the United States tripartite talks in Japan to help build trust.
official in the United States Secretary of State Hillary Clinton and Chinese Foreign Minister Yang Jiechi told reporters after the talks, said: "We have to both clear that we want the temperature down."
he said: "We said that the U.S. is ready to play a role in this process, we together with Japan and China discussed the trilateral talks held between our three countries the idea, among the three countries in order to emphasize the importance of strong and stable relationship . "
[AFP, Washington, October 29 -] deepening resentment in Japan on the occasion, the United States today called on China and Japan hold talks to ease tensions.
U.S. State Department spokesman Philip Crowley told reporters, "We hope China and Japan sit down and dialogue", and resolve disputes around the islands and the recent maritime collision problems.
[AP, Hanoi, October 30 – 30, U.S. Secretary of State Hillary Clinton said that in the increasingly tense between China and its neighbors on territorial disputes, the United States has a major stake. She strained to the East Asian countries that the United States will remain a major force in the Asia-Pacific region.
Hillary to the East Asian leaders in Vietnam, announced in a speech, the peaceful settlement of the dispute islands in America's immediate national security interests.
her speech filled with subtle diplomatic language, but passed the message is clear: China can not use its growing economic and military threat to neighboring countries. Clinton and other U.S. officials had similar remarks lead to China's harsh criticism.