Home
»
China military
» China-made large passenger aircraft demonstrator engine development will be completed in five years
China-made large passenger aircraft demonstrator engine development will be completed in five years
Date:2011-08-31
Author:admin
Category:China military
Comment:0
made 150-level large-scale prototype C919 aircraft cabin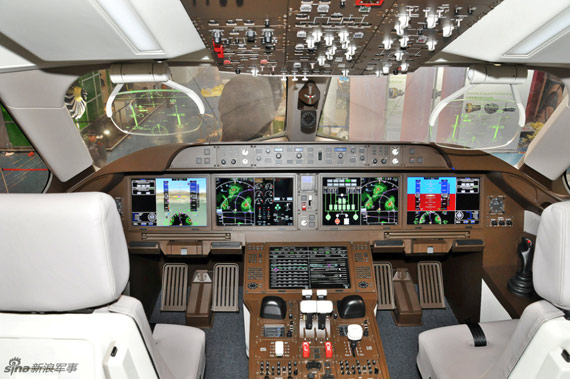 C919-passenger prototype cockpit
Zhuhai, Nov. 16 Xinhua (Reporter Zhengtian Hong Wei Meng) to take our large aircraft, the "China Heart" mission in the aircraft development Commercial Aircraft Engine Co. 16 in Zhuhai Air Show site announce the overall program of domestic large jet engine is stepping up the definition of work is expected in several rounds of revisions and improvements, the basic technology in 2011 to determine the path, and the "five "developed during a full demonstrator engine.
since its inception in January 2009 debut at the Zhuhai Air Show in the commercial aviation industry made, the 56-inch touch screen display for some high bypass ratio turbofan engines of the three-dimensional animation, to inform the development of domestic commercial engine project progress. This is the first time three-dimensional rotation, exploded, side profile, etc. present a full range of external precision engine construction.
correspondent engine air show exhibition at the scene saw this commercial made by the R & D center and technical personnel with reference to the overall design of the current progress of the production of three-dimensional animation, the overall structure has nine units can be the engine the seamless body coupled together to form a complete product.
business R & D engineers sent South Changfeng told reporters, has been hailed as "industrial crown jewel" of the aircraft engine, is fairing, fan plenum body composition in nine units, the nine coupling of precision parts, together with the external casing pipe and accessories, can be assembled into a complete commercial engine, then embedded in the aircraft manufacturer made the whole nacelle, showing a visual impression for people in the large aircraft "Heart."
made vice president in the commercial aviation industry, said Li Bao, commercial aircraft engine industry is today the only solution to both high-speed, high pressure, ultra-high temperature the three major technical problems of manufactured goods, has been hailed as manufacturing business areas "crown jewel" of its performance and level of technology for the aircraft as a whole, the security, economy, comfort and other key indicators are occupying more than half the weight, the development of technology more difficult, more risky invest more, the cycle is longer.
welcome comments I want to comment
related reports:
HD Chart: C919-passenger prototype debut at the Zhuhai Air Show
C919-large passenger aircraft by six enterprises 100 starting order (Figure)
C919-made large aircraft technology level will be highly competitive
C919-large passenger aircraft will be transferred to engineering development stage next year (Figure)
related topics: Eighth Air Zhuhai Show