Russia intends to export more than 300 aircraft Yak-130 L-15 competition with the Chinese market
Date:2011-08-31
Author:admin
Category:International military
Comment:0
China Falcon L-15 advanced trainer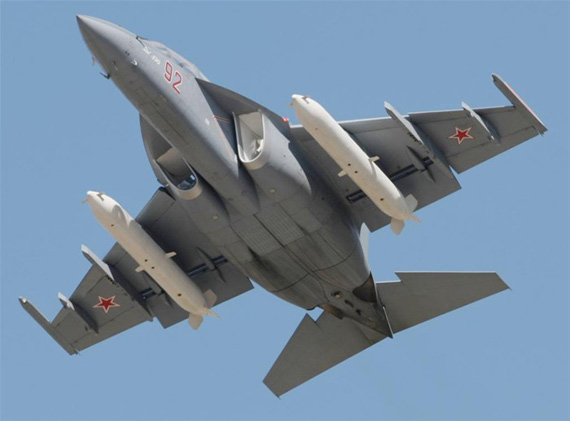 senior Russian Yak-130 combat trainer
LONDON September 29 news: According to the Russian military news network reported on September 28, Russian world arms trade center 9 27 published a report predicts that the Russian Yak-130 trainer aircraft is estimated that up to overall production volume of more than 500 aircraft, including 200 Russian Defense Ministry will meet their needs, about 300 to exports, then it will in the world market and China's L-15, Italy's M-346, the British "Eagle" style, Korean T-50 trainer aircraft competition.
reported that the next four years (2010-2013) and the world of new advanced jet trainer primary market both in sales volume or turnover will have increased significantly on both, and after 4 years ( 2006-2009) sold 167 new jet trainer, the total amount of $ 2.515 billion compared to the scale, the next four years, sales are expected for the 383, worth $ 7.41 billion. Substantial future growth in this market one of the main choice of many Third World countries, the bulk purchase advanced trainer aircraft, instead of expensive multi-purpose fighter.
Russian arms trade center world that the Yak-130 trainer aircraft export prospects, potential procurement of major countries, quantity and delivery deadlines are as follows: Algeria (12-16 frame, the second batch with the to replace L-39, is expected to supply between 2015-2025), Belarus (6-12 frame ,2015-2020), Brazil (6-12 frame ,2015-2025), Venezuela (12-18 aircraft to replace the Chinese K-8 trainer aircraft ,2030-2040 years), Vietnam (6-12 frame, the second group used to replace L-39 ,2015-2025 years), Ghana (6 ,2012-2018 years), Indonesia (16 tender ,2012-2013), Jordan (2011 – 2020 frame 12-16), Iran (12-16 aircraft ,2016-2020, provided that the UN Security Council lift the sanctions), Yemen (6-12 frame, 2015 -2025 years), Kazakhstan (6-12 frame ,2011-2020), Libya (6-12 frame, the second batch is expected to be delivered between 2015-2025), Malaysia (18-24 aircraft to replace the British "Eagle" ,2025-2030), Morocco (6-12 frame ,2025-2040), Syria (24-36 aircraft ,2011-2020), Sudan (6-12 frame ,2025-2030), Peru (6 ,2020-2025 years), Thailand (6-12 frame to replace L-39 ,2015-2030 years), Ukraine (12-24 planes ,2020-2040 years).
Although some countries have the opportunity to have a Yak-130, but either because the national military budget is limited, can not afford, mainly in Africa and Latin American countries, either for political reasons and choose other countries trainer. Nevertheless, the Yak-130′s export potential is still very large, its marketing plan for the world market in many ways thanks to the success it was identified as the basis of the Russian Air Force fighter-type coach. To date, the Yak-130′s export orders for 30 aircraft, including six Libya, Vietnam, 8, 16 Algeria, Russia and Vietnam, but the supply contract has not yet been officially confirmed. Russia has signed to supply Libya's $ 1.8 billion worth of weapons package deal includes six Yak-130, the first two plans should be delivered in 2011, and the remaining four in the 2012 supply. Yak-130′s recent export prospects will be bidding 16 Indonesia Air Force trainer aircraft is closely related to the progress, and South Korea, Russia is currently the T-50, the Czech L-159B to compete. The Yak-130 supply and Syria negotiations were under way, the future does not rule out the possibility of Syria to recover purchase. Recent Latin American buyers may be Venezuela, the CIS countries are Belarus and Kazakhstan.
Russian arms trade center world that the Yak-130 in the international market is Italy's main rival M-346, Britain's "Eagle" type MK.128/MK.132, South Korea's T -50 and China's L-15. M-346 Italian Air Force on the internal demand of about 6, plus 9 trainer priority purchase rights, in the external market, there has been progress in the United Arab Emirates (48) and Singapore (16) Air Force trainer aircraft procurement tenders to win, but between the UAE and the negotiations on the signing of a formal contract has failed, the two sides failed to aircraft certification and supply conditions agreed upon. M-346 near the potential buyers may be Poland, Greece, Indonesia, Saudi Arabia.
British Air Force "Eagle" Mk.128 internal demand for 28, plans to supply completed before the end of 2010. The end of July this year, the British BAE Systems and Hindustan Aeronautics Limited in Bangalore, has signed a group of 57 renewals "Eagle" MK132 contract, after the two countries signed in March 2004 had a value of about $ 1.8 billion 66 Frame "Eagle" type of trainer aircraft supply contract. Recently the most likely buyers of Poland and France.
Korea within the T-50′s demand for 82, including 50 T-50 CJ machines, 22 TA-50 fighters and 10 higher education aerobatics team with the T-50B aircraft The first batch of T-50 December 2005 onwards, and in June this year the first 50 CJ machine has been fitted out. Recent potential buyers Israel and Iraq.
China Hongdu Aviation Industry Group has completed a two-seat L-15 supersonic jet trainer aircraft developed by junior and senior, began to prepare a small batch production, potential procurement of the country first, K-8 trainer The use of state machine, mainly Egypt, Venezuela, Pakistan, Ghana, Sudan, Namibia, Zambia, Zimbabwe, Sri Lanka, Bolivia, Burma. At present, China and several African countries have embarked on the supply of L-15 preliminary negotiations, Venezuela is also evaluating the feasibility of purchasing L-15. (Compiled: Shu-shan)