Home
»
China military
» China's fishery cruise ship to expand the scope of the Diaoyu Islands have Akao one week around the
China's fishery cruise ship to expand the scope of the Diaoyu Islands have Akao one week around the
Date:2011-08-31
Author:admin
Category:China military
Comment:0
Yesterday, the Japanese patrol boat stalking my cruise fleet. Yellow should be taken to Ming Zhang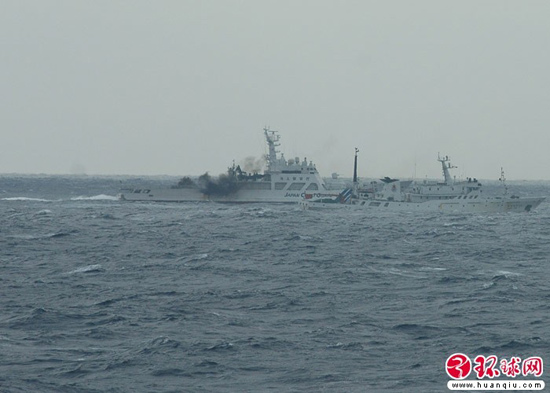 PL65 Japanese patrol boat and I" fishery 201, "Cruise ship confrontation
yesterday by 310 vessels and 201 vessels consisting of Chinese fishery fleet continues I cruise in the Diaoyu Islands waters. Formation is extended to cover the cruising waters of the Diaoyu Islands. Following the recent cruise around the Diaoyu Islands after lap, as of 14 am yesterday, I formation have Akao cruise around a week.
in the cruise, the Nanfang Daily correspondent found that in terms of historical records or from the current situation of natural Diaoyu Islands, are eloquently that: Diaoyu Islands China since ancient times inherent in the sacred territory!
Diaoyu Islands is not just an island, its full name fishing islands, including Lantau near the yellow tail, red tail Island, South Island and North Island and four other islands and some reefs composed of a group of islands.
7:00 yesterday, China's formal entry into the fishery fleet cruising the waters Akao, Akao and start from the northwest corner of the direction of a point in a clockwise direction around the cruise. Shown on the chart, Akao located northeast of the Diaoyu Islands. Reporters from afar to 310 ships, Akao like a trapezoid screen, after vicissitudes, Yiran standing among the ocean.
newspaper previously reported that the first phase of the cruise, the Japanese patrol boats and aircraft close to me like plaster-like formation. In yesterday's cruise, they re-formation of the implementation of my "routine" interference. Yesterday, Japan has dispatched five patrol boats and three aircraft. Among them, the reporter also saw the "old rival" — the Japan Coast Guard patrol boat PL65 and PL125.
around 5 am yesterday morning, 310 Japanese patrol ship found in the right rear trailing PL125 track. About 15 minutes later, a fixed-wing reconnaissance aircraft, such as ghosts usually appear in the sky, and hovered around the I formation spy.
a few minutes later, another a model for the PL65′s patrol boat from the starboard direction 310 boat coming toward me. Soon, PL125 towards me with a blunt formation of Chinese propaganda: "The Chinese fishery, please do not enter Japanese territorial waters in the territorial waters of Japan, we do not recognize you are innocent passage."
"Diaoyu Islands in China inherent in the sacred territory, we have Akao near the cruise, there does not exist in Japan's territorial waters. please do not work for us to interfere with the normal cruise! please leave immediately! "I give solemn formation immediately responded, and their interference with the conduct of warning.
Nanfang Daily correspondent Wong to
correspondent Deh-Ming Chang Kuo also co-ordinating music