Russian warships docked for nearly 80 years, the first port in Hokkaido, Japan (Figure)
Date:2011-08-31
Author:admin
Category:International military
Comment:0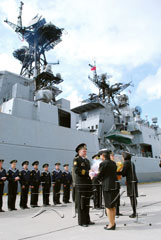 Russian Pacific Fleet "Panjieliefu Admiral" was a large anti-submarine destroyer docked 15 Hakodate, Hakodate, Hokkaido, Japan, Hong Kong (Kyodo News)
BEIJING, Oct. 15 (Xinhua) Japan's Kyodo News Web site, according to reports, the Russian Pacific Fleet "Panjieliefu will" was (Admiral Panteleev, 6700 tons) of large anti-submarine destroyer docked in Japan 15 Hakodate Port of Hakodate, Hokkaido. Reported that it is nearly 80 years, the Russian navy's first visit to Hokkaido.
learned that the "Panjieliefu will" sign will escort the Japanese Maritime Self-Defense Forces' Day Fog "(3500 ton) with 16 local time, 17 to 1:00 pm two days 4:00 open to the public.
"Panjieliefu will" was scheduled to leave Hakodate port 19.
on the 15th day of the ceremony, the ship commander Captain Scott Love (transliteration) speech, said: "I hope that through exchanges to enhance mutual understanding and trust." Russian sailors in the dock during the Visit the city's churches and Hakodate Hill.
data management Hakodate Port of Hakodate city government said the ship docked Hakodate friendly visit to Hong Kong, have confirmed its not carrying nuclear weapons, has agreed to stop.