Home
»
International military
» Japanese officials said it would strive to bring Russia and Japan Naoto Kan visits disputed islands
Japanese officials said it would strive to bring Russia and Japan Naoto Kan visits disputed islands
Date:2011-08-30
Author:admin
Category:International military
Comment:0
data for: Kan Naoto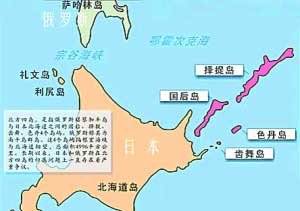 diagram of the disputed islands, Russia and Japan.
Global Network reporter Wang Huan reported for Russian President Dmitry Medvedev visits and disputed South Kuril Islands, Japan (Japan called "the four northern islands"), Cabinet Office vice minister of justice rules that loose end, the will contribute to Japanese Prime Minister Naoto Kan, "visit the four northern islands."
Japan's Mainichi Broadcasting (MBS) News reported on November 7, the end of the day loose rules defined regions of Nemuro in Hokkaido inspection, the local people to explain the Japanese government in the future Russian president landed on the island for the specific inspection response. He also said that the Japanese government will strive for coordination of all "possible conditions", "Naoto Kan, the Prime Minister must let the board visited the island."
reported that the last song at the end of the inspection of Nemuro, Hokkaido north to Cape satisfied gauze, visited the island is only 3.7 square kilometers of the shell, personally "feel close to the four northern islands." .