Home
»
China military
» Chinese media said the attempt of Russia to upgrade nuclear capability level (Figure)
Chinese media said the attempt of Russia to upgrade nuclear capability level (Figure)
Date:2011-08-30
Author:admin
Category:China military
Comment:0
data for: the 2009 parade of cruise missiles the PLA Second Artillery Corps side team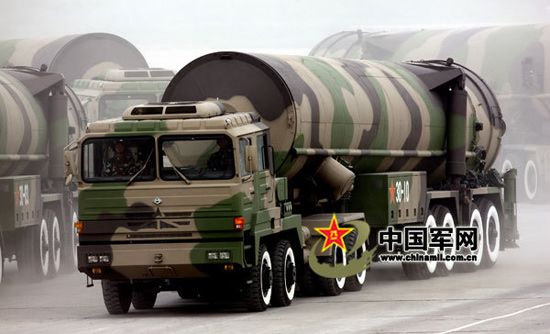 data for: the PLA Second Artillery Corps, DF-31 A column filled with nuclear missiles
Age 28, Australia reported that senior PLA officers with U.S. counterparts, the latter explicitly refused to be released on China's number of nuclear weapons requirements. Analysts say this policy will likely affect the balance of military power in Asia. Reported that the U.S. diplomats repeatedly to persuade China to increase transparency of its nuclear weapons efforts failed.
Australian media said, in June 2008, the Chinese had told the U.S. Department of Defense and State Department officials said that China's nuclear force growth is "inevitable fact" and that "advances in technology will not appear on the limit . "
Moreover, although in July 2009 declared an in-depth discussion, Beijing's nuclear posture "is always defensive in nature", and China may have 'never join the nuclear arms race. " In June 2008, Chinese Vice Foreign Minister He Yafei told U.S. officials that China's military will "inevitably natural extension," and China "can not tolerate others set limits to our ability."
reported that the Japanese worry about China's nuclear arsenal and the number will reach a balanced level of the number of U.S. nuclear weapons, but Tokyo has urged Washington to maintain its strong nuclear capabilities in order to prevent the "increasingly bold" China "to do stupid. "
reported that in June 2009, at the highest level of nuclear policy consultations, the Japanese Defense Ministry officials told the U.S. representative said that Tokyo assessment conducted by the Government, "China is rapidly upgrading its nuclear capability, has Since the 20th century, beyond the relatively low level since the 1980s and 1990s, and with the United States and Russia are trying to achieve a balanced level. "
Japan-US Defense Cooperation, Kanazawa Qin Qing (Kiyoshi Serizawa) told the U.S. diplomat: "China is showing its military capabilities of the new self-confidence, and also display their strength in the region, especially in Diaoyu Islands issue. "
In addition, a senior Japanese Foreign Ministry officials also warned that China in addition to nuclear construction, but also for other activities, including anti-satellite test in 2007, the network assault, other its naval capabilities are also enhanced.
reported that the Japan-US Security Treaty, Senior Coordinator, Yusuke Arai, said: "If the Chinese realize that the United States into the region on the issue of difficulties, it is likely to make some stupid. "
in separate discussions with U.S. diplomats, the Japanese defense officials in the Obama administration plans to discuss with Russia to reduce nuclear forces expressed concern about the issue, saying it might encourage China's nuclear development. In this regard, a Japanese official explained that, although China announced "no first use" of nuclear weapons, but "nuclear experts do not believe it." Reported that the U.S. and Japanese officials believe that the construction of China's nuclear opacity caused distress to the outside world, but Japan also stressed that the decision in the United States and Russia, nuclear weapons "deep cuts" dialogue before the close US-Japan cooperation is "very important . "
Australian media articles mentioned in early 2010, Obama released "Nuclear Posture Review", the United States and Russia signed on April 8, a new "Strategic Arms Limitation Treaty", provides for next seven years, the arsenal of strategic nuclear weapons to 1,550 the number of cuts. According to the International Institute for Strategic Studies estimated that China has about 90 intercontinental ballistic missiles (66 land-based, 24 submarine-launched) and more than 400 medium-range missiles. Moreover, according to the U.S. intelligence community predicted that by the mid-1920s, China will double the number of ballistic missiles, which may pose a threat to the United States. (Compiled: Spring)