Home
»
China military
» Large formation exercise Army aviation fleet low altitude 8 meters sea raid tactics
Large formation exercise Army aviation fleet low altitude 8 meters sea raid tactics
Date:2011-08-30
Author:admin
Category:China military
Comment:0
Lu Hangwu direct sea fleet training low altitude cruise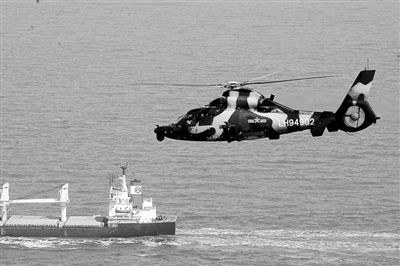 Luhang Wu straight drive marine training flight
our reporter Wang Weidong special correspondent Zhou Jingbo
from Yanshan to the sea, the helicopter maneuver miles in control in flight
3 月 18, 9 am, an airport Yanshan hinterland, Army Aviation helicopters have been more than 10 aircraft took off, flew thousands of miles away a sea.
Meanwhile, north of a highway, a mobile field army aviation battle command vehicle moving in the same direction gallop. Car battlefield electronic screen, a flashing red dot.
"took off like a plane flying a kite, lines in our hands, no matter how high fly far, are in control of these flashes and moving dots, that is, real-time flight path . "Command gallery, as the commander in chief of General Staff of a remote mobile army aviation regiment Zhang Zhilin told reporters.
"tick, tick, tick …" came a sudden burst of rapid car alarm sound. I saw a dot on the screen flicker frequency was significantly accelerated, then the pop-up dialog box displays a red warning: 105 helicopter hydraulic system failure. Zhang head quickly move the mouse to the dot position 105 helicopter flight speed, altitude, coordinates orientation and oil reserves, and other information parameters displayed immediately.
"105 Note that the implementation of contingency plans for No. 1!" "105 understand!" Then, 105 helicopters for a large number of parameters to be self-timely delivery to the command platform. Commander through an online interpretation, confirm that the alarm system malfunction lights cockpit panel of insurance automatically disconnect switches caused false positives. A false alarm, warning lifted.
"surface only change the battlefield access to information means, in essence, is the changing pattern of combat effectiveness." Speaking of change in the way the command, the head Zhang familiar: the past, landscape clouds affect vulnerable communication links, Today, the use of integrated information systems, clear instructions at any time; previous voice command poor security, vulnerable to electromagnetic interference, and now the use of new technology, security and stability of send and receive freely … …
down, down, multi-model sea formation of low altitude flying thrilling
3 月 20 日 上午 8 时 30 points, 3 hair flares off the northeast boiling up of a coastal airport by helicopter gunships, reconnaissance and transport helicopters consisting of helicopter fleet, to carry out multi-model deep sea fly formation flight training courses.
looking down from the cabin, like an endless sea of ??blue silk, in a tear in the sea breeze up and down. Weather Information Display control panel: wind 5, wind speed 8-11 m/s … …
9 am, start low altitude formation flight training at sea. Acceleration is almost close to the sea fleet flying wing swirling flow caused by strong agitation with water, setting off huge wave, fly spray, mist rising.
15 meters, 10 meters, 8 meters … with the height of the helicopter have been falling through the front windows, the reporter seems to have felt the sea front is higher than the fuselage, the aircraft was drilled to the water.
"too much risk it!" Reporters scared into a cold sweat, his hands firmly grasp the top of the tank security Stopper.
correspondent aboard the lead plane captain Chan firmly holding the steering column, calm and comfortable. Reporters seek to neutralize the tension outside the cabin looked, I saw clusters between water and sky are constantly changing formations, adjust flying posture, exercise a tactical action: 5 transport helicopters into a wedge formation, low altitude sea-skimming flight, in sea ??water curtain rolled up round after round, spectacular; cluster on each side of an armed helicopter escort mission responsible for follow-up, sometimes high altitude, low-flying sea-skimming from time to time … …
a half hour later, fleet safety encore. Participate in the TSC's General Staff Department of Aviation Director of Training and yellow gram super pilot, told reporters: "The sea flying in formation, is Lu Hangfei line training from the transport model to transport of combined attack by land-based tasks to execute the maritime mission, single frame from a single batch to a large fleet flying in formation flight change a successful practice. "
night, helicopters flew deep-sea islands carrying commandos to rescue" hostages "
night, the noise The airport resumed quiet, distant, spreading waves of sound of the waves. As the commander Zhang Zhilin order, three heavily armed commandos equipped with a helicopter from the airport and disappeared in the night sky.
3 月 21 日 21 时 10 points, the regiment complex environments island night rescue drills began. Reporters traveling on 201 interviews with the lead plane to follow.
dark outside the windows. Control the lead plane of the deputy head of the Zhao Derong pointing to the front surface from time to time to remind the co-pilot: "night flying sky blend, obvious landmarks less prone to illusion, must not effect!"
"Since it is a rescue courses , why should fully armed? "to reporters questions, Zhao Derong said:" Tonight's subjects to set a tactical background – a sea merchant ships were hijacked to a deep-sea island, ordered troops to the rescue. "
hidden sailing, low altitude helicopter into the … … 3 with the cover of darkness, cleverly circumvent the "terrorists" of detection, fast approaching the target island. "Sea-skimming flight!" Zhao Derong directed to the wingman.
helicopter rapid decline in height, almost perpendicular toward the sea. Dashboard display, wave on the plane about to touch the moment, the body flick resumed level flight.
island four weeks poor visibility, the distance can still be seen a "terrorist" safe house with a weak light. "301, 302, to seize a favorable position, quickly landing!" Lead aircraft assigned combat command. Under the cover of the lead plane, two wingmen quickly identify the landing point, hover over the side of the island, they quickly jumped out of special operations aircraft, the formation of encirclement of the target, with the dolphin flares off, " terrorists "panic, without a fight.
20 minutes later, the aircraft carrying the rescued "hostage" to take off again, like three agile Nighthawk, darting to the coastline.
(This picture from the newspaper correspondent Zhou Jingbo, talk about wave correspondent photo)
Luhang Hai on the flight training
■ Compared overland flight, flying at sea sky and sea, the pilot prone to loneliness, fear and a sense of dislocation. Height of 10 meters, a little careless manipulation of the helicopter rotor can be rolled into the sea waves cause gland; multi-plane formation flying at sea, inter-flow interference, higher risk.
■ 2002 In May, Army Aviation flight training at sea for the first time to organize themselves. Since then, the Army Aviation extensively at low altitude and low altitude flight at sea, island, landing, formation of fire attack, hover landing abseiling and sea search and rescue highly difficult subjects research training, technology and military pilots flying offshore sea and air combat capability has improved significantly .