Army camp ban heterosexual intimacy between men and women mixed with live action female trouble
Date:2011-08-30
Author:admin
Category:International military
Comment:0
Israel Defense Forces" fierce-looking cat "business going live ammunition.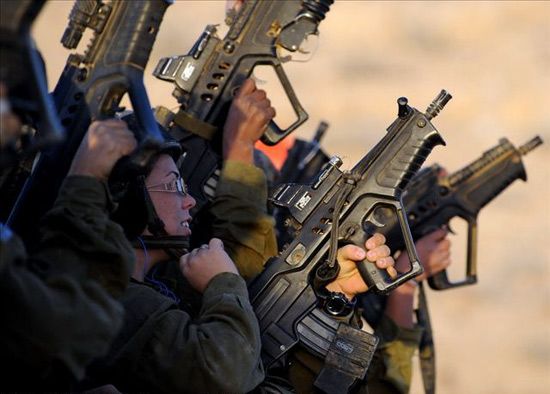 female combatants in the Israeli Defense Forces and the increased awareness of gender equality, the female is more confident in social interaction.
in southern Israel's Negev desert, hundreds of wearing khaki uniforms Tubing was in the desolate desert skirmish formation to the ground assault was launched. Ten ten child soldiers crossed the small slope, throwing himself on a gravel, aim, fire, flares bright red tail dragging fly 50 meters of the target, follow-up units cover charge, flying gravel in the hands of soldiers on, to draw lines in his face streaked with blood.
deafening gunfire between a husky female voice shouting "Ka Dima! (Hebrew: Forward)"
This is the Israel Defense Forces' fierce-looking cat, "camp is live-fire exercise.
"fierce-looking cat," Camp was established in 2001, the Israeli army is the only one mixed men and women of infantry battalions, of which 70% of the total number of female soldiers.
desert "fierce-looking cat"
fierce-looking cat is a wild cat living in the desert, dashing, jumping to hunt rats, rabbits and other sand animals for food. "Caracal Cat" business as its title, as long in the depths of the Egyptian-Israeli border patrol in the desert, "hunting" those with intent to endanger Israel's security infiltrators.
Sarah Oden Heim is the "fierce-looking cat," camp a corporal, 20 years old, she says she has dreams of becoming a childhood hero.
"a child, adults often tell me to defend the motherland and the heroes of the home, laid down their precious lives and I hope to be like them to serve the motherland where ('fierce-looking cat' camp) is a female Advanced combat troops to participate in one, "covered with sand hair Sarah said.
Israel is the only requirement for women to be the world's national military service. According to Israel's compulsory military service system, women must perform military service after 18 years of age 21 months, only married, has been educating women and the ultra-Orthodox Jews in order to avoid military service. Currently standing army in Israel, women accounted for about one-third.
21 months after the end of compulsory military service, female soldiers can voluntarily extend the service period. In the "fierce-looking cat," camp, female who would like their fellow male soldiers as serving three years.
as "fierce-looking cat" combat troops will be doing this equal treatment of every soldier, no one will be additional preferential treatment because of gender, and female soldiers in training as male soldiers are accustomed to that kind of rough way speech act. Reporters visiting the "fierce-looking cat," live-fire exercises conducted to the camp at 5 pm the same day when it was getting dark, perhaps taking into account the risk of nighttime live-fire exercises, military commander issued a plant to stop participating in the training exercise instruction.
a young female lieutenant looks depressed, facing the commander shouted: "Why should we stop? Only the last hill!"
"Do not say anything of the ! end of the training! "commander shouted commands.
Lieutenant "rude" contradict a superior officer, is a rugged self-confidence vivid portrayal of Israelis. In this country, you can see the students asked professors, employees challenge the boss, local officials attacking Prime Minister.
in the military, this "informality" of ordinary soldiers can afford to make decisions for the Executive's views on higher. Local people generally believe that such an atmosphere and habits can maximize individual decision-makers to avoid mistakes result in losses to the collective, the Israeli army is efficient, accurate and important foundation for the operation.
sex problems
gap in the training, the reporter saw a female soldier took out a pink stylish mobile phone, send text messages with a smile; few a female to chat with laughing, talking about Tel Aviv's lifestyle. If you replace the uniforms, they look more like a group of college students go out of town.
but the harsh wilderness environment and hard training camp is also the girl who left a distinctive mark: some female to emulate the classic Hollywood tough guy image, a red scarf tied at the head; Some can be smoked a cigarette a few mouthfuls, but also very masculinity to put cigarette butts thrown on the ground and then foot off.
Zhezhi mixed despite their female forces in the various aspects of the performance was strong, tough, but gender differences or to bring them some trouble.
"We are living life and male soldiers are separated, but still there are all kinds of problems," in Shi Li Yate – Fadi Da said, "as in the mission near the border, due to no toilets, male soldiers walked away a few meters away you can spot easily, but the female will need a long distance away. "
" fierce-looking cat "business men and women are mixed in the form to Sarah trouble. Less than 1.6 meters tall, his face is not off her childlike from a religious family. Judaism for unmarried men and women get along, there are strict regulations, in addition to not being alone in a room, the 'traditional Jewish family and even that' men can not walk in between two women.
"I am not very used to the beginning, I was in a very traditional environment, grew up, where the male soldiers with some of my childhood playmates very different men. They are relatively mild childhood But here, even the girls are very strong. just came here, these differences even than high-intensity physical training but also to my surprise, "said Sara.
mixed forms of organization for men and women, there are different views in the army. Some military officers believe that this form will not arise between men and women in the normal antagonism, or men and women into the emotional, that affect the entire unit's combat effectiveness.
for this problem, Li Yate told reporters that forces men and women in relationships have strict rules, "I did not find that among us there is nothing unusual in relationships where there is too much intimacy between men and women against the action, of course, when faced with a number of pleasant things, we will split each other for friendship, hold, and we also have some of the couple inside, but they only leave and get permission to date. "
army soldiers provided their own weapons to be fully responsible for a lot of soldiers do not post gun when they leave the body, the soldiers Bei Zhaoqiang mall, coffee scene is not uncommon, and some military couple wearing a military uniform, toting guns in hand shopping, as the streets of Israel a special landscape.
name "fierce-looking cat," the camp commander, said: "Whenever someone on the men and women in mixed practices questioned, the same number of people have supported us these soldiers to the border very well in angstroms completed the task, not inferior to men and troops. "
1979 Egypt and Israel signed a peace agreement since the two countries has not occurred the war. But this 210 km-long border was not calm paradise. "They block a lot of African illegal immigrants across the border, so that crime was rampant trafficking in women disappeared, but also significantly reduce the drug flow into Israel," the commander said.
"fierce-looking cat," camp supporters that "hunting cats" camp there, so the main force able to deploy the IDF in the Gaza border, the Lebanese border and other "hot spots".
distinguished itself
in a highly competitive, national martial Israeli society, the young military resume is the first stepping stone into the community. Female combatants in the Israel Defense Forces and the increase in awareness of gender equality, the female is more confident in social interaction.
2010 In July, a 名叫埃莉诺 Corporal Joseph's "fierce-looking cat," complete army training camp, became the first one in the Israel Defense Forces fighting the forces of Arab women .
Israel Defense Forces are known for their fierce warrior known, but once the female is an important component. In 1948 the first Middle East war, the Jewish women had the soldiers on the battlefield alongside men. In Tel Aviv, female soldiers were repulsed with a machine gun Egyptian bombers; in northern Israel, formed by the female commandos and the Lebanese, Syrian forces in combat; southern desert, the female soldiers have been side by side with men to resist the dominant number of Arab coalition. Only the first Middle East war, Israel had tens of thousands of women took part in the fighting, hundreds of female soldiers on the battlefield gave his young life.
Despite the 1948 Middle East war, Israel female soldiers for this country to continue to make outstanding contributions, but after most of the time, they are in the military commitment of some copy, training, technical support, etc. second-tier work.
Lai in 2006 war, Israeli soldiers female and male re-join the field. This is the 1948 Middle East war, the first female to participate in direct combat. They fired artillery, warships and fighter jets driving, they show a per post rose loud. Also in the war, army soldiers killed in front once again appeared on the list the names of women.
the women into combat in the community caused no small controversy. According to a study by the IDF, women relative to men is not suitable for fighting weak physical environment, they served as infantry, armor and engineers when the survival rate is low. In addition, the female was also captured by the enemy more vulnerable. To this end, female army designed specifically for lighter boots, helmets and other equipment to make them flexible in combat. (Ben in Jerusalem correspondent Hao Fang Yuan Zhenyu A)