Japan plans to send the SDF to participate in disaster relief to New Zealand (Photos)
Date:2011-08-30
Author:admin
Category:International military
Comment:0
Feb. 22, the second largest city in New Zealand Christchurch, a magnitude 6.3 earthquake, the focal depth is only 4 km from the surface. Currently, rescue workers search for survivors was in full swing.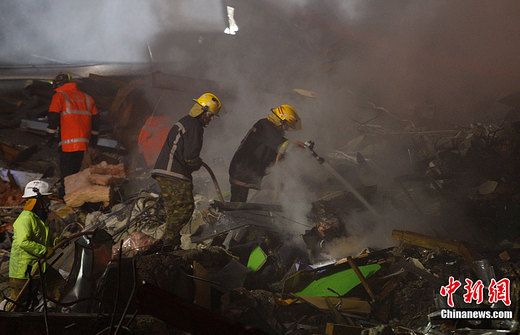 rescue workers search for survivors in full swing.
BEIJING, Feb. 23, according to Japan's Kyodo News reported that Japan, the New Zealand Government's request, the Japanese government to the country 22 decided to send aid earthquake victims responsible for the emergency rescue team. Japanese Prime Minister Naoto Kan evening will be Foreign Minister Maehara and other relevant cabinet members called to the residence, requiring fully grasp the disaster situation and to confirm the safety of the local Japanese. Naoto Kan told reporters stressed: "will do everything practical to deal with."
before the original to the New Zealand ambassador to Japan, Kennedy said: "willing to as much as possible to provide assistance." On official House Deputy Executive Tetsuro Fukuyama also told reporters that : "Studies in the medical and rescue will provide manpower and capital and other aid possibilities."
Japanese Foreign Ministry said the 22 evening, New Zealand Ambassador to Japan, Japanese Foreign Minister visited the emergency Maehara Secretary, request the Japanese government to lend a helping hand in New Zealand. At 10 am, Japanese Chief Cabinet Secretary Yukio Ueno branch in interviews with reporters, said the Japanese government will be based on local earthquake, plans to dispatch Self-Defense Forces and New Zealand fire rescue team, and preparing to send a physician class.
before the dispatch of emergency rescue team, the Japanese Foreign Ministry for the collection of information was sent to New Zealand the evening with the International Cooperation Agency (JICA) and Ministry of Internal Affairs Fire Department formed a joint investigation team.
22 day and night, by the Ministry of Foreign Affairs of emergency humanitarian support of international emergency aid official Ji Jingxing class husband and the Tokyo Fire Department Police anti-vice counselor Yu Igarashi Fortunately, JICA international emergency assistance team training Affairs Division, God has been within three Kyu fly to New Zealand, is to investigate the disaster and relief situations.
Tokyo Fire Department said 22 day and night, the hall belongs to an emergency response unit ready starting to prepare, ready to depart for New Zealand in order to wait for the earthquake relief work.
According to the Japanese Foreign Ministry said that the Japanese currently living in New Zealand more than 3,000 people, plus hundreds of Japanese tourists. Latest news, in Christchurch, New Zealand There are 24 missing Japanese people.