Indian-made brilliant fighter finally allowed to R & D service for nearly 30 years (Figure)
Date:2011-08-30
Author:admin
Category:International military
Comment:0
New Kingdom, grade pilot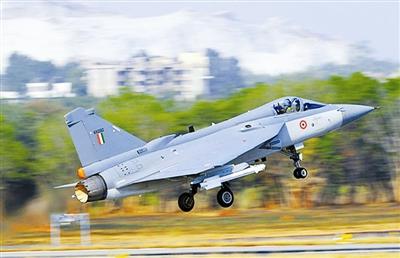 Indian-made "brilliant" (LCA) light fighter
Kingdom of the new, super pilot, the National Commission on stereotypes of military products consultant, Air Force, Air Theory Experts, Safe Flight 2800 hours. Served as an Air Force base flight commander, deputy head, head of the current logistics and equipment for Air Force Command College Associate Director, Professor. Worked in Manchester University and Ross as the Air Force Academy Cove. Who have completed more than 10 subjects, engaged in combat use of air weapons. Has won an army and Technology Progress Award, the Air Force Outstanding Award two theoretical results, third prize.
News Alert: beginning of this year, Indian-made "brilliant" (LCA) to get the Indian Light Combat Aircraft, "Air Force operations certificate" to start mass production and equip Indian Air Force, currently planned to equip 200, used to replace aging MiG-21 fighters. "Brilliant" after many years of research "journey" and eventually became immortal, especially in India for India's aviation industry is a great encouragement: They finally have developed their own fighters, has become one of the few independent research and development fighter capabilities. To learn more about the latest equipment, the Indian Air Force's "brilliant" fighter, hereby request the Department of the Air Force Command College, after loading the new colonel, deputy director of the Kingdom of interpretation for the reader.
nearly 30 years, casting a "sword", "brilliant" Why is it so tough fighter born
2011 In January, India's "brilliant" light fighter finally "Take card" production. Looking back on the road of development, from India to develop long-term facelift plans to determine their own development of new aircraft so far, nearly 30 years.
a fighter development for so long, rare in aviation history, but also shows that the road of independent innovation really rough, not easy to hold up the wings of fighter planes.
back in the early 1980s, India has proposed to develop LCA light aircraft, thereby contributing to the Indian aviation industry. Therefore, we must complete three of India is extremely difficult task: to develop the aircraft fly-by-system, multi-function radar and turbojet engines. Therefore, the first foreign partners to participate very little.
As originally conceived, LCA's goal is to develop a lightweight supersonic multi-role fighter, it should have high mobility, equipment, modern avionics and weapons systems to meet the first 20 years of the 21st century operational needs. In addition assume the role of air defense fighter, but also a ground attack capability, support for ground forces to complete the task. Demonstrator flight plan 1990-1991, the year 2000, 10 squadrons (230) MiG-21 fighter facelift.
fact, India 1980 announced the LCA program, but until 10 years later, the French Dassault Aviation with the help of barely complete the overall design. In the meantime, several U.S. companies to support product and technology, 1995 was build the first aircraft technology demonstrator. As the system developed by an aircraft fly-by-stage again and again, originally scheduled for 1996 for the first test flight of the demonstrator, four years after the completion of taxiing, to January 4, 2001 before liftoff.
2003, at the Indian air show "brilliant" debut, strict confidentiality outside the plane in the past carried out both fighter air show, has done a static display aircraft on display including around-guided bombs, missiles and rockets, including all of its airborne weapons, indicating not only air combat capability, but also with ground attack capability.
to January 2009, the "brilliant" to complete 1,000 flight test aircraft. Since then, the Indian Air Force aircraft deliveries for the trial. January 2011, the "brilliant" fighter allowed to formal service, be developed for nearly 30 years of drawing to an end.
why LCA research and development of the road so long? First, because the Indian industry, especially the weak aerospace industrial base, in the short term in order to complete the design, development task is difficult. In addition, the Indian government to set a target of LCA high expectations too. Over the years, the Indian authorities forced by various pressures, escalating the LCA of technical and tactical targets, aimed at all aspects of technology and world-class level, so making the prototype aircraft factory repeatedly delayed.
Service ceiling 15,950 m, the maximum payload of 4 tons, maximum flying speed of Mach 1.7, the new machine does not account for service, "Kumar"
"brilliant" performance is the main fighter : wingspan of 8.2 meters, captain 13.2 m, height 4.4 m; Service ceiling, 15,950 m; aircraft empty weight 5.5 tons maximum payload of 4 tons, the engine thrust 8.165 tons; maximum flight speed of 1.7 Mach.
this type of aircraft equipped with 23 mm double-barreled main gun (220 rounds), with 7 plug-in points, can be mounted air to air missiles, ground missiles, air-ship missiles, guided bombs, rockets and a variety of conventional bombs and other weapons.
"brilliant" performance in line with their own fighter equipped with the world's aviation development mainstream. On the one hand relatively strong perception of information, such as it is equipped with multi-function radar, electronic pod and pilot helmet sight system are consistent with the current trends in mainstream fighter. The other hand, a relatively strong air to air, ground attack capability, "brilliant" to mount a variety of guided modes of air, ground and air-ship missile, with a strong ability in the short-range air combat and ground precision strike capability.
"brilliant" fighter control system is more advanced. It uses advanced digital flight control system, telex, with good reliability and sensitivity. "Double-pole technique" to ensure that pilots hands on the joystick, to complete a variety of operations.
its biggest flaw is the air is not so reasonable. Three generations from now equipped with a large number of machines, the overwhelming majority have adopted the conventional layout, or a canard, and "brilliant" is used in a unique double-delta wing tailless layout, this drawback is the layout of the resistance, the low-speed conditions, the relatively poor mobility.
Now, with the Su-30MKI fighter jets equipped with a remote Indian Air Force, Indian Air Force has been established to heavy equipment system as the core fighter, MiG-29 and "Mirage" 2000 has been to expand the scale of the mid-range equipment plans to replace MiG-21 "brilliant" even if the service will not become a fighter Indian Air Force's "leader."
fighter development of the "zero" breakthrough, the value of current shows, the future can be expected
"brilliant" mass production and the armed forces fighter jets to make India achieve fighter development of the "zero" breakthrough, aviation industry technology level has been greatly improved for the subsequent development of new fighters to open the road trip.
fighter to reach the world development trend, India did not remain in the "glorious" level, but actively seeking to develop the fifth generation fighter: First, he developed MCA (medium-sized aircraft); second, jointly developed with Russia fifth-generation heavy fighter T-50.
MCA is a medium-sized fighter with stealth capabilities, can be seen as "brilliant" and a large double payment. MCA uses a "brilliant" wing and inlet design, and some "brilliant" system components, and equipped with self-developed in India, "Caffery" engine. And "brilliant" than, MCA's biggest feature is used as a medium attack aircraft. The aircraft empty weight 12 tons maximum takeoff weight of 18 tons, the design emphasizes stealth in the body coated with radar absorbing paint, part of the weapons built.
T-50 was jointly developed by India and Russia, the fifth-generation stealth fighter heavy-duty multi-purpose. Russia and India the two countries agreed in 2016 developed two versions of a single seat and two-seat, single-seat T-50 will be equipped with the Russian Air Force, and two-seat T-50 to equip the Indian Air Force. Hindustan Aeronautics Ltd will participate in the T-50 design and manufacturing, in charge of composite parts and avionics, electronic warfare and cockpit display system design.
fifth-generation fighter for India's development, will further improve their level of aviation industry, as the "glorious" subsequent improvements will bring great benefits. Have equipment for "brilliant" fighter, the Indian Air Force made a number of improvements, Hindustan first batch of 40 will be "brilliant" Mk.1, began production Mk.2 version of "brilliant." Improved the "brilliant" to dress up the engine thrust and more obsolete equipment replacement parts.
Indian aviation weapons and equipment development strategy to achieve "the introduction of + independent development of the" walking on two legs, on the one hand to ensure that the Indian Air Force has advanced weapons, on the other hand both the Indian aviation industry, which For developing countries the development of aviation weapons and equipment are also learning and inspiration.