Home
»
China military
» Indian media comments on China aircraft carrier development: spend less, save experience
Indian media comments on China aircraft carrier development: spend less, save experience
Date:2012-07-31
Author:admin
Category:China military
Comment:0
the India The Vic Rama Tia carrier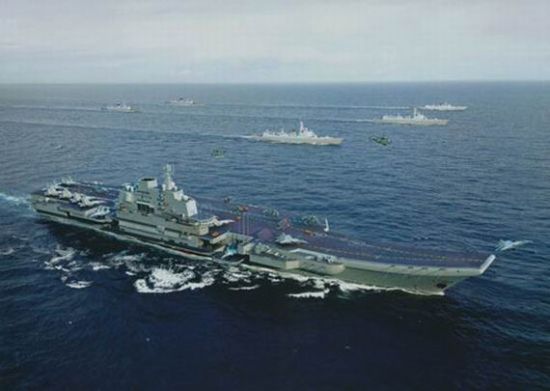 Chinese aircraft carrier battle groups to imagine Figure
[World Wide Web Roundup] Indian Defense Review, a quarterly site reported on July 27, China and India have in strengthening its own navy, and around the aircraft carrier to set up its own naval fleet. However, the road is not the same in India and China.
Indian media said the after Russian "Vic Rama Tia" aircraft carrier, due to India's lack of capacity and technology to undertake such an arduous project, India has decided to repair the ship in Russia. Modified by Russia in India "Vic Rama Tia USS entering the White Sea to begin sea trials on June 8. Russian and Indian naval personnel boarded the carrier test, but the Indian soldiers but only as an observer. Modified Vic Rama Tia "equipment than is currently serving in India virrat" aircraft carrier, the MiG-29K carrier-based aircraft is better than the old-fashioned British Sea Harrier aircraft. The aircraft carrier combat effectiveness can be comparable with France, "de Gaulle nuclear-powered aircraft carrier. India is now actively strengthen its naval forces. It is the construction of China-made aircraft carrier, it is the construction of three guided missile destroyers and three stealth missile frigate. In addition, India to Russia ordered a large number of guided missile frigates. If these plans are successfully completed, India will not only consolidate its dominant position in the Indian Ocean, it will be among the top five navy the world.
Indian media said, after spending $ 20 million to Ukraine to buy the "Varyag" aircraft carrier not yet completed, the money spent in the purchase of aircraft carrier than India much less. Although India is a cost of billions of dollars upgrading Vic Rama Tia "aircraft carrier, has failed to improve their shipbuilding. The upgrade program only increased shipbuilding capacity of the Russian shipyard. No wonder that Russia plans to upgrade is complete, "Vic Rama Tia" after its own aircraft carrier sent to the shipyard to upgrade. China bought the unfinished "Varyag" aircraft carrier to rely completely on their own industrial and shipbuilding skills, maintenance and renovation of the carrier. China is both less spent the money, the accumulated carrier transformation experience and learned a valuable experience to help it build its own aircraft carrier.
printed media, more importantly, China and India is not on an industrial level. In the past 10 years to build 16 large-scale missile frigates and at least 10 guided missile destroyer, as well as more advanced submarines. The equipment is mostly manufactured by the Chinese of their own design. At the same time, over the past decade, India has started six destroyers and six frigates, but there is only one frigate has been in service. Looks like the future of the Indian Navy seems will continue to rely on the purchase of warships from abroad to maintain the size of the Navy.
share: