Home
»
China military
» Japan said that the Chinese navy warships through the island chain to 11
Japan said that the Chinese navy warships through the island chain to 11
Date:2011-08-30
Author:admin
Category:China military
Comment:0
Japanese Ministry of Defense released 136 Chinese navy missile destroyer
Japanese Ministry of Defense released 137 Chinese navy missile destroyer
Japanese Ministry of Defense announced the Chinese navy missile destroyer 138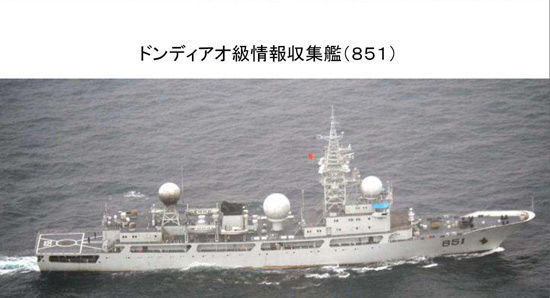 Japan's Ministry of Defense released 851 Chinese Navy intelligence gathering ship
Global Network reporter Wang Huan Japan's Kyodo news reported that Japan's defense ministry announced on June 9, 9 am, the Chinese Navy there are three convoys from the East China Sea through the island of Okinawa and Miyako island waterway sail the high seas between the Pacific Ocean. Plus 8 has eight Chinese warships through the waters, two days a total of 11 Chinese warships offshore through Okinawa, unprecedented scale.
Japan's defense ministry said, 9, around 9 am, the Japanese Maritime Self Defense Force "P-3C" patrol aircraft, three frigates to the Chinese discovered about 30 kilometers per hour through from Miyako Island, Okinawa Prefecture waters about 100 kilometers northeast. Because the area is on the high seas, the Chinese would not violate "international law."
integration of Japanese Self-Defense Forces chief of staff (equivalent to chief of staff) of wood off a good one in the 9th regular press conference, said: "The fact that the Chinese navy's activities become more active, we are highly concerned about, warning and surveillance will need to implement. "Some analysts believe that Chinese warships will conduct exercises in the Pacific, the Japanese Maritime Self-Defense Force has strengthened this" warning and surveillance. "
for the Japanese media on the "Chinese warships through the coastal waters of Okinawa," the report, China 9 Department of Defense to respond to earlier, that the PLA Navy ships to be mid to late June in the Western Pacific training in international waters, and stressed that this is an annual program of routine training, comply with the relevant norms of international law, not against any other country-specific and target.
(edit: SN038)
related topics: China's naval training in the Western Pacific in 2011