Nairobi, Kenya suffered a grenade attack injured 29 people died
Date:2011-10-25
Author:admin
Category:International military
Comment:0
Nairobi after a grenade attack, an injured man in the hospital for treatment.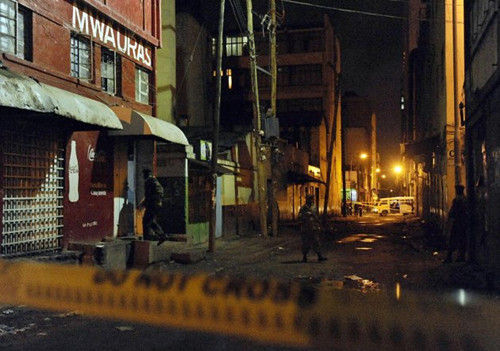 Kenya suffered a grenade attack on the police blockade of the pub area.
BEIJING (microblogging) October 25, according to foreign reports, from 24 grenade attack occurred the morning after the day of the Kenyan capital, Nairobi, being again attacked with hand grenades, two attacks were caused by a people were killed and 29 injured.
It is reported that the second attack occurred in the center of a bus station in Nairobi, was at its peak period. Attackers threw a grenade into the crowd, killing at least one person was killed and 15 injured. And earlier in the day with another grenade attack took place in a pub not far from this, killing 14 people injured.
According to the medical staff said 29 people injured, 15 people are hospitalized, including two of them seriously.
Police said the attack is likely to be Somali "Youth Party" by armed elements. Last week, Somali "Youth Party" warning said it would infringe on the territory of Kenya, the practice of military retaliation. Prior to that, to combat Somali "Youth Party", Kenya has sent troops into Somalia to carry out military operations. Three days ago, the U.S. Embassy in Kenya to Nairobi was a warning of possible terrorist attacks.
Somali "Youth Party" is a key Somali anti-government armed groups, control most of Somalia territory. The organization with the "base" organization linked, has been the U.S. list of terrorist organizations.
Nairobi police chief said he has stepped up security measures in the capital city. But Apparently, the streets of Nairobi, police did not show significant increase, the search suspicious persons and goods is still very sloppy work.
. OtherContent_01 p {line-height: 23px; margin: 0px;} . Icon_sina,. Icon_msn,. Icon_fx {background-position: 2px -1px}. icon_msn {background-position:-25px-1px;}. icon_fx {background-position:-240px-50px;}
share: