Home
»
China military
» U.S. media said that China's military power, but not a specific objective of the war the United States
U.S. media said that China's military power, but not a specific objective of the war the United States
Date:2011-10-12
Author:admin
Category:China military
Comment:0
information Figure: China F -20 fighter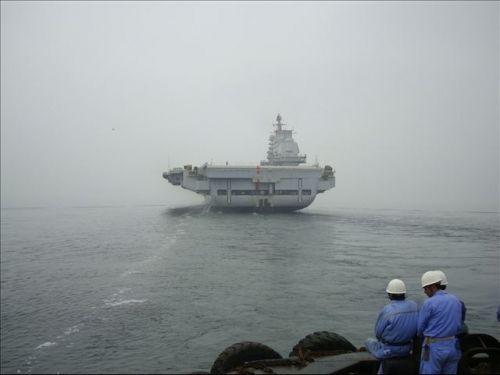 data for: trials of the Chinese aircraft carrier is
According to the U.S. Aviation Week, October 10 Journal article said, in response to China's new military capabilities, and network technology, the United States The current intention is to strengthen its ability to predict foreign. To this end, the United States plans to upgrade its fourth-generation fighter and attack aircraft, tactical intelligence, surveillance, and reconnaissance (ISR) unit, the introduction of lower-cost platforms (such as MC-12 ISR machine) and some new platforms (such as long-range attack systems series ).
U.S. Journal article said that although China is not a specific target U.S. war plans, but it does have the strongest military power except the United States. Therefore, China's aircraft, sensors, missiles, spacecraft and missile defense fleet and have become a standard, a measure of U.S. strategic and technical standards. U.S. Air Force Lieutenant General, responsible for operational planning and deputy chief of staff needs Herbert ? Carlisle, said: "We may play against their equipment. China has the strongest ability, so we have to distinguish their combat chain to treat. "
However, on China, the situation is still unknown, there are a lot. Carlisle pointed out that "there is a sense of pride the Chinese people" that they will find their own way to develop more effective military force, "So, I think they will not follow us." In particular, the Chinese have launched a network exploration and use of action, and only those with large-scale conventional intelligence, surveillance and reconnaissance forces is possible.
Journal article said the United States, in response to China's new military reconnaissance capabilities and network technology, the United States is currently the intention to strengthen its ability to predict foreign. The resulting changes include upgrading the U.S. fourth-generation fighter and attack aircraft, tactical intelligence, surveillance and reconnaissance equipment, the introduction of lower-cost platforms (such as MC-12 ISR machine) and some new platforms (such as long-range attack systems LRS Series) .
However, the U.S. defense budget to slash the possibility has led the country's military plans, military structure and the lack of ability to become clear. Carlisle said, "because the discussion around the size of the army there, so it is not clear," the future of U.S. forces, as well as what they will be required to perform the task. But he added, intelligence, surveillance and reconnaissance series will undoubtedly become part of future U.S. military. Moreover, the American bombers would have a network-based, integrated electronic attack (EA) capability. This capability, advanced weapons and unmanned aerial vehicles carried by a precision sensor, the 80-100 will be for planning long-range attack aircraft to support troops.
Carlisle pointed out that the long-range attacks will reflect the people more and better integrated ISR system for the continued growth of demand. It seems to be a few still one of the areas will continue to expand, although the Air Force Chief of Staff Norton Schwartz ? has predicted that only 10% of the ISR project will become a real new projects.
U.S. industrial sector plans to increase ISR capabilities, to focus on the high-and low-end conflicts. Against terrorists and insurgents try to include low-end to improve the resolution of the sensor, enhanced computing power to generate advanced calculus, integration of data and to embed these capabilities integrated with the release device, for low-cost commercial machine.
in high-conflict, in which the most dangerous threats to infiltrate enemy forces in the environment, a large number of manned platforms may disappear. Instead, stealth infiltration of sensors and unmanned aircraft will carry weapons as a platform, attached to manned aircraft. However, manned aircraft may occupy the middle ground, they may be replicated by other aircraft to perform some tasks, such as RC-135 "Rivet Joint" (Rivet Joint) electronic signals intelligence reconnaissance mission, E-3 airborne early warning aircraft command and control tasks and the E-8 "Joint STARS" (Joint Stars) ground surveillance radar mission, although the distance to the tactical, high-threat places closer to local implementation.
defense budget cuts in the process of surviving legacy fighters, the main is the latest F-16, early F/A-18, F-15C and F-15E, will accept the upgrade, with variant version of the sensor components, these components are Americans in the global mission of the formation and development of the ISR machine. ISR aircraft will play a greater role for the battlefield so that they can contribute to the overall war situation.
with the U.S. Air Force downsizing and the reduction of funds, over the next decade, these aircraft may be more compact to carry the load. Currently, the U.S. built only two aircraft, as well as for sensor fusion system, the system play a role, they are the F-22 "Raptor" fighter and the F-35 Joint Strike Fighter.
However, Raytheon International Strategy and Business Development Vice President Jim ? Ha Weide (Jim Hvizd) said: "We will never legacy platform into a comprehensive system, but because their avionics is joint ", which makes the cost becomes too high. Moreover, the lack of stealth, "they will have too much away from the target area in order to survive, and this upgrade will become meaningless." Then is to identify those able to extend the sensor range, you can use long-range weapons to keep non-stealth combat aircraft continue to participate in the important high-end technology.
Ha Weide said: "So, we are considering the active phased array radar (AESA) technology, integrated into, such as F-16, F/A-18 and other early platforms (such as the U.S. Air Force's new tanker) on. "He said:" In view of this work has been formed, so we are continuing the development of relevant systems, in these systems, we have a combination of active phased array, electronic warfare, and optical/infrared technology , which will be combined with related structures, which are among include F-35? does not include, however, the aircraft on the battlefield in the network can effectively play a role. "
more importantly, there source phased-array radar coverage to reach a conventional, mechanical scanning system coverage by 2-3 times. Moreover, data collected for its use has greatly improved. Ha Weide said: "We are working to make these systems able to solve those crew members is very important thing, without having to check all data." He said: "We can handle images, or frequency response measurements, and earlier of this work done, so should be able to decide where to send the information, and what can be mixed together with its view of the spectrum has broadened our control, which allows us to improve the cross-identification and electronic warfare, active electronically scanned comprehensive and we can mix and match sensors program group, the advanced capabilities into the air facility. "
Raytheon Another area of ??concern will be the high light general imaging (HSI). As the operational area of ??insurgents have different vegetation and terrain, if the signal collection and use of common imaging with combined high light, it will cause the actors to understand their goals and methods for mobile location, at the same time, by acquiring the target of communication information, understand their situation. Moreover, when the target display and activities together, in the monitor mode of human activity, high light general imaging is particularly useful.
active phased array radar technology will be extended to the business particularly on the battlefield. Currently, some developers claim, said the United States, Europe and Russia, active phased array technology, the technology behind the United States than ten years. For example, a senior U.S. radar experts said that while Israel "already has some of the airworthiness of the device, but it can not be produced is still a problem."
However, other analysts were against the United States. They pointed out that the French company Selex active phased array system has three aircraft in the United States put into use, or for the overall development, they are U.S. Customs and Border Protection aircraft, King Air (King Airs) and Coast Guard aircraft The HC-130 tanker.
In addition, critics point that foreign systems often integrated with mechanical and electronic scanning. (Spring)
share: