Home
»
China military
» People's Liberation Army honor guard column appeared celebration will be listed first phalanx Venezuela
People's Liberation Army honor guard column appeared celebration will be listed first phalanx Venezuela
Date:2011-08-29
Author:admin
Category:China military
Comment:0
in rehearsal I am in the military honor guard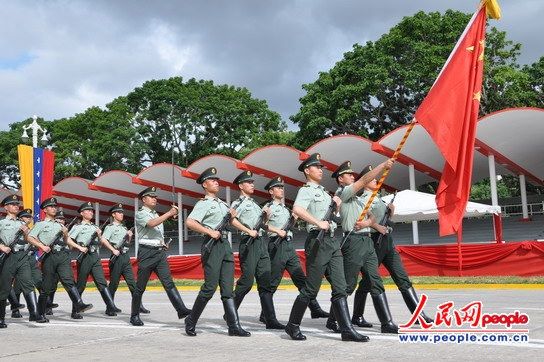 parade in celebration of a military honor guard will be the first of China's admission
People Caracas, July 4 (Xinhua correspondent Zhang Wei in) 4 My People's Liberation Army military honor guard at the Great Plaza, the Venezuelan capital Caracas, the fourth exercise, although not officially unveiled it has attracted media attention. According to reporter visits, army guard of honor will be the first entry, good grace to show our military.
to celebrate the 200th anniversary of Venezuela's declaration of independence, I was invited to participate in a military honor guard will be 5 at the large parade celebration. I am a military honor guard arrived on June 29, Venezuela. In recent days despite their fatigue and jet lag, rapidly put in front of parade drill. Beijing Garrison Command, Deputy Chief of Staff Dong Kwok-chuen told reporters that the excellent quality of our military honor guard. The average age of 22 years, height 188 cm. They'll show my civilized, mighty good image. To the Venezuelan people to express Chinese people's friendly feelings.
This is my second time to build a military honor guard standard to go abroad, to participate in the foreign large-scale celebration performances. According to reports, in addition to Venezuela's defense force to attend the May Day parade, the 17 guests invited to participate in national honor guard parade.