U.S. government leaders should create four devastating disaster doomsday plane
Date:2011-08-29
Author:admin
Category:International military
Comment:0
E-4B Yao Mu table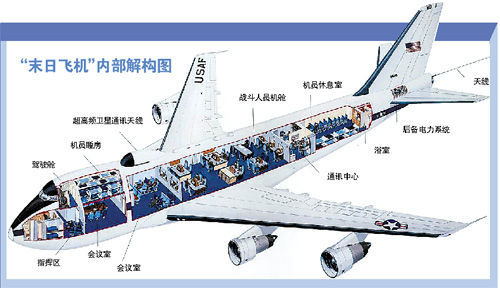 Structure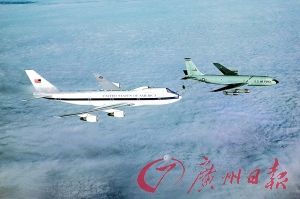 are receiving aerial refueling E-4B
able to cope with the devastating disaster to protect the President dignitaries
special functions: anti-nuclear radiation
can flight a few days without refueling
with submarine docking
number: The U.S. has four
in the movie "2012 doomsday prophecy", the United States a number of politicians fled aboard a presidential plane, and the "Doomsday plane" is the reality version of the plane. U.S. Air Force has said a rare "doomsday plane" of the internal situation that is faced with nuclear war, meteorites hit the Earth and other "end environment", it can also be equipped with protective devices to protect the dignitaries on the plane.
WASHINGTON United States "doomsday plane" military number E-4B, under the 55th Air Force flying squadron, currently a total of four. Its main role is to face the devastating disasters in the United States, to protect the President, Secretary of Defense and other military and political leaders, and even the skills of government and military headquarters temporarily moved to the sky.
The aircraft cost $ 223 million from the Boeing 747 passenger aircraft converted, and can carry 112 people. In addition, the aircraft's fuel tank reserves amazing, can reach 185 tons, in the air for a few days do not need to supply the fuel.
"doomsday plane" is also equipped with heavy weight of 165,000 pounds of electronic equipment, and seamless protective shell, which is designed for nuclear radiation, enough to ensure the cabin staff will not be a nuclear bomb impact. Captain Si Kao Te Leide said in an interview, "doomsday plane" is more than one, each frame is 365 days a year and is on call 24 hours a day.
"to any of us a phone number, no matter what when, where, as long as on Earth, we will be able to access by specific people," U.S. Air Force Senior Master Sergeant Walter Joy Stowe said. "We can even with the deep sea submarine personnel to maintain contact, thrown from the back cabin five miles of rope and submarine docking."
take enough comfort
In fact, the U.S. military in January 1980 on the development of the aircraft, but has not been announced. According to plan, once the face of nuclear attack, the U.S. military and government officials will be divided into three groups from Washington, take the "doomsday plane", fled to the United States three different locations. The aircraft may at any time after receiving the command, 5 minutes off.
However, the stay "doomsday plane" in the not too comfortable. U.S. Defense Secretary Robert Gates had complained that he did not have a window of space, let him feel like a Spartan warrior in the experience of suffering, rather than take the advanced aircraft like the minister. (Cases Wo)
. OtherContent_01 p {line-height: 23px; margin: 0px;} (edit: SN049)