Home
»
China military
» Military research and development of portable video communication system for remote video command
Military research and development of portable video communication system for remote video command
Date:2011-08-29
Author:admin
Category:China military
Comment:0
photo shows the author Chen Yande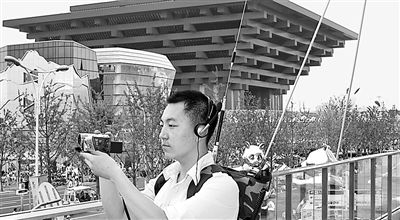 civil-military integration to ensure safety
May last year, the Shanghai World Expo will be opened under the world's attention, command hall control room, each checkpoint, the Hall field area glance, the duty officer in the chain of command to achieve a wireless video real-time monitoring. In October, a real confrontation exercise in the Nanjing Military Region based in full swing, "Red Army" assault unit in the "enemy" in depth interspersed when he suddenly lost contact with headquarters, pinch them to quickly enable wireless video command system, immediate real-time motion video information transmitted Jun Zhang, as a channel instruction issued, assault units quickly changed tactics, broken in one fell swoop "the enemy" … When he learned that we developed military and civilian-type innovations, known as the "man systems, intelligent fighter, "the wireless emergency command system, carry out diverse tasks play an important role, our hearts are greatly pleased.
Wireless Emergency Command System is to carry out diversified military tasks of the important technical means. Currently there are clusters of countries used radio, or in the emergency command and communication vehicle mounted satellite, 3G, digital TV integrated technology and equipment, but the traditional and conventional means of communication has been difficult to meet the audio and video multimedia services, high-capacity bandwidth, high-speed mobile and coverage over a broad area such as video for emergency command and communications needs.
force needs to address a series of technical problems, we promptly set up by my research team led by technology and in-depth research forces, command system found in the past limited communication range, bandwidth is not high, mobility is not strong, so the wireless transmission of high-speed and large bandwidth as the primary objective must be overcome. We have access to numerous copies of literature, a number of central cities and the military and civilian experts to study and repeated tests, improved signal processing algorithms and spectral power parameters, and finally broke through the complex environment for multi-carrier wireless transmission and other key technology, but also independent research and development of new wireless broadband transmission technology system of voice, video one-way high-speed mobile wireless transmission.
initial victory, we build on the progress, went to the military training ground to carry out the actual test. "Reports the head of our marching forward 213 unnamed hill, instruct!" Against the exercise, 3rd Battalion Wang Yingchang video command system through the car refers to the base. "Received, according to the scheduled implementation of the program!" "Very good. Remote mobile, video directing, really powerful!" Force commander told us excitedly.
dozens of in-depth research so that we collected from the front-line troops to a lot of valuable advice: "Can develop man-portable terminal?" "How long can the battery?" "How to do the wild out of power? "Faced with these questions, we have sub-simmering effort, we must make the system sound good.
we immediately went to learn outside the military facility, a modular hardware platform based on embedded system software and hardware transformation and design, also developed specifically for the man-bear-type terminals and handheld terminal for diverse military action to achieve flat vertical command of the foundation. Then, we ran several well-known manufacturer of solar batteries, a good solution to the field power supply problems.
Today, the whole system a new look: more flexible network deployment is more convenient, more reliable, more secure system. Scientific research, we made a number of core results with independent intellectual property rights, won more than 20 domestic and foreign patents. After the new system Expo security, maintenance of stability at the sudden, disaster relief and headquarters, the theater organization several exercises test, can be described as logistical support, with remarkable results.
end of last year, the results related to the success of the new reporting system the Army Science and Technology Progress Award. In the results to promote the meeting, the same jury of experts evaluated the system in a complex environment for the troops carry out diverse tasks under conditions to provide a new type of emergency command and communications means, the overall standard of living in the international forefront of technology. Heads highly praised us: our mission is the construction of military information "excellent pioneer."
invention comments: take a good civil-military integration of the road, is to achieve technological innovation and intellectual property rights has won a key ring.
Chenyan De