Home
»
China military
» U.S. says Southeast Asian countries are optimistic about China's procurement of equipment 97 rifle
U.S. says Southeast Asian countries are optimistic about China's procurement of equipment 97 rifle
Date:2011-09-04
Author:admin
Category:China military
Comment:0
equipped with China's export model 95 rifle 97 rifle Cambodian soldiers

Chinese Type 97 rifles equipped with the Cambodian police

some African countries have also been equipped with China's 97 police rifle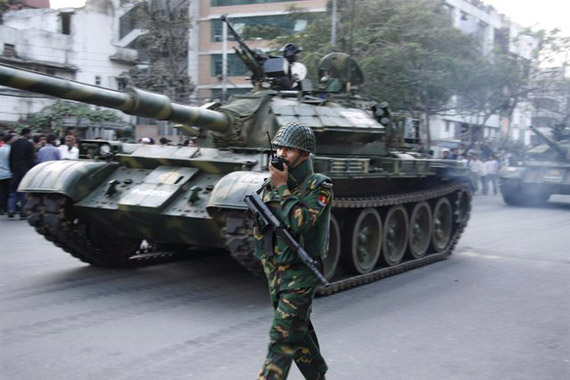 Jiankua China 81-1 in Bangladesh military-style rifles, rifle made in Bangladesh is known as BD-08 model-type
U.S. Global Strategic Network February 28 that some of the world countries optimistic about China's new Type 95 assault rifle, is through the procurement of equipment of their troops. Allegedly, someone saw Burmese soldiers have been equipped with such Chinese weapons.
article said that 95-style rifle BULL-PUP design form (ie, trigger clip at the back), the use of special ammunition 5.8x42mm unique to China. This special ammunition cartridge case caliber than the 5.56 NATO standard rounds slightly larger, but the missile body shorter. Similar to M-16 rifles with 95-style rifle magazine capacity of 30 rounds. The rifle can be shot or single bursts. China is currently using the new 95-style rifle to replace the Type 81 rifle, which is 10% lighter in weight than the former, it is clear forces have been recognized.
The article said that the 1997 handover to China, 95-style rifle debut. There are many types of this rifle (small version of the 95 rifles, automatic rifles and sniper rifles). Allegedly, the export version (Type 97 rifle) using the standard 5.56 NATO rounds, Myanmar is equipped with this rifle.
article said, China has also provided funding and technical assistance to Bangladesh, the construction of production improved Chinese Type 81 assault rifle factory. This assault rifle weighs 7.5 pounds and shape is similar to China's 56-style rifles, which itself is the imitation of the Soviet AK-47 assault rifle. The main difference is the smaller 81-style rifle recoil, which makes the rifle accuracy has been improved. Bangladesh version of the Type 81 rifle was named BD-08, new plant capable of producing thousands of years, put this rifle. Finally, Bangladesh will use BD-08 rifles to replace the currently used 56 rifles, two are 7.62/39 mm ammunition used. (Spring)