Home
»
China military
» "Military World" magazine in 2009 listed the first four grand (Figure)
"Military World" magazine in 2009 listed the first four grand (Figure)
Date:2011-09-04
Author:admin
Category:China military
Comment:0
"Military World" magazine cover 2009 fourth exciting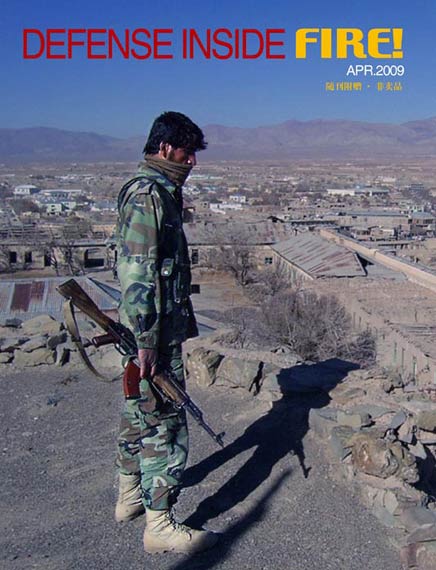 "Military World" magazine in 2009 donated the cover of the fourth
"the military world," a new revision in 2009 listed
each comes with 20 color supplement "FIRE!", reported the latest global military and cultural information for the urban elite to provide hard-core fashion reading experience.
1. Cover Story
Sincerely, navy powerful
Review PLAN 60-year event memo
Qingdao 1957
new China's first naval parade of notes
and their fleet commander
Republic of leaders and building of the Navy's story
I participated in the 1995 Marine Parade
read modern Chinese navy exercise Record
Time flies, the passage of time. When the new Chinese navy is about to read at the largest ever sea-ship-style occasion, who still remember, that support a hundred years ago wiped out the navy has had a heavenly Chong gathered in Beirut, stern bow of ship phase of the magnificent scene.
2. Editor of the argument
Hillary: the art of the strength of the strategic and policy implications
3. Special Report
ah, the Navy
60th anniversary of the naval parade preview
4 . Focus
Chinese naval forces 2016-2017
experts speculate the PLA Navy, the U.S. military strategy and direction
information navy, China is ready it?
U.S. military experts assess the Chinese Navy information technology
In recent years, the PLA of the branches of the military information technology have made outstanding progress, also attracted strong interest from overseas, the Navy as a export-oriented, technology-intensive branches, bear the brunt of their attention. Jamestown Foundation, the two U.S. China expert author analyzes the Chinese navy army of information technology achievements and future development.
5. Channel
"Indian Ocean fleet," Taiwan's ocean-going navy to prove?
conscription in Taiwan navy's promotional materials, there is a years of the same ad – "Join the Navy, around the world." "Friendship voyage 'does carry a generation of Taiwanese sailors' around' the world, and thus establish their confidence and impulse of offshore operations, being 5000 sea miles away deeply moved by a group of pirates … …
6. Around the military
the Indian Ocean a new variable
Pakistan Navy F-22P frigates
ambition Malaysia
Malaysian army building into a critical period
7. Global Insight
ultimate Flanker
modified Su-35 flight test the latest insider track
for the Russian Air Force, this is a does not need the "obsolete" aircraft; while the Sukhoi, the Su-35 PAK-FA in addition to pre-production to fill the overseas market merchandise, but also charged with the challenge of Irkut Su-30 series of market-led consortium status of the task.
"Flanker" ultra-horizon voice
West pilots are facing a real nightmare, firing rounds of the Russian long-range air to air missiles will be used completely different seeker and the great difference between the incoming trajectory, they are almost impossible to avoid interference or both.
"lock in" stealth fighters
"Flanker" onboard radar upgrade
8. Historical depth
Northeast over the Ghost
the Korean War in the RF-86 reconnaissance plane
RF-86 reconnaissance variant insider
Asian Voyeur
early Cold War, the 15th tactical reconnaissance squadron