Home
»
China military
» Vietnam's defense minister said more aid will not forget China against imperialist aggression
Vietnam's defense minister said more aid will not forget China against imperialist aggression
Date:2011-09-04
Author:admin
Category:China military
Comment:0
3 23, Vietnamese Defense Minister Phung Quang Thanh general (right) welcomes Chen Bingde visit. Photo: Xinhua News Agency reporter Han Qiao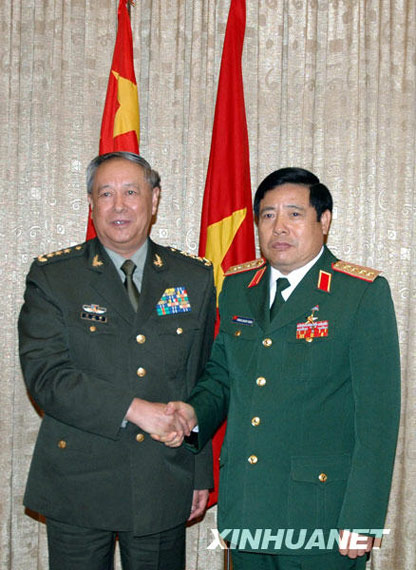 3 23, Vietnamese Defense Minister Phung Quang Thanh general (right) and Chen Bingde pictures taken. Photo: Xinhua News Agency reporter Han Qiao
Xinhua News Agency, Hanoi, March 23 – (Correspondent Han Qiao, Huang Haimin) Vietnamese Defense Minister Phung Quang Thanh Nguyen general and chief of the newspaper the morning of 23 grams of research will be met in Hanoi is Vietnam an official goodwill visit to Central Military Commission, Chief of General Staff Chen Bingde. On bilateral military relations and regional and international security situation and exchanged views.
Phung Quang Thanh said that Vietnam-China relations is the relationship between comrades and brothers, the Vietnamese people will never forget the support and help the Chinese people against imperialist aggression. In recent years, the two parties, two governments, peoples and friendly cooperation between the armed forces continue to make new achievements, bilateral relations have taken a solid pace, we are sincerely happy. Vietnam attaches great importance to developing Vietnam-China military relations, hoping to further strengthen military exchanges and cooperation, continue to carry forward the traditional friendship with Vietnam. Phung Quang Thanh said for some of the problems between the two countries, through political and diplomatic means to properly solve, should not affect relations between Vietnam and the People's Friendship.
grams of research, said Nguyen, Vietnam-China relations is a special relationship, from the traditional friendship has developed into a comprehensive strategic partnership. Vietnam is the development of military relations satisfied with the status quo, not only to maintain high-level military visits and joint patrols in the northern Gulf, border exchanges, personnel training is also conducted good cooperation. Vietnam ready to work with China to be more in the armed forces of friendly cooperation to a new level.
ChenBingDe said, the friendship is the older generation of leaders to create, is the traditional friendship between the revolution, has a solid foundation and development prospects. In the "long-term stability, future orientation, good neighborly friendship and comprehensive cooperation" principle under the guidance of Vietnam relations have witnessed rapid development in various fields to further deepen exchanges and cooperation. Vietnam military ties are an important part of bilateral relations and military relations in recent years have achieved positive results. Chinese army is ready to further strengthen pragmatic cooperation of the Vietnamese armed forces, to promote friendship and cooperation between the two armed forces in the more healthy and steady development, to build peace, harmony, prosperity, border, always be good neighbors, good friends, good comrades and good partners.
Chinese Ambassador to Vietnam, Sun Guoxiang, Chen Bingde, deputy commander of the navy chief entourage Gu Wengen, commander of the Jinan Military Region, Jinan Military Region Air Force deputy commander Liu Zhongxing, Wang Jitang, deputy commander of the Guangzhou Military Region, Chengdu Military Region Deputy Commander Lizuo Cheng, Shenyang Military Region Chief of Staff Houshu Sen, attended the meeting.