Home
»
China military
» China's new UAV precision guided artillery attack ground targets (Figure)
China's new UAV precision guided artillery attack ground targets (Figure)
Date:2011-09-04
Author:admin
Category:China military
Comment:0
anti-aircraft missiles Sun Jiukui photo Source: PLA Daily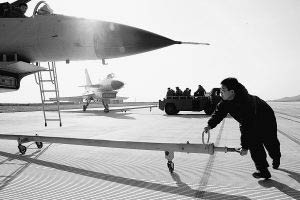 Base F-10 fighter Tanchao She Source: PLA Daily
" Comrade commander, unmanned aerial reconnaissance system that targets on the ground , and successfully captured. "" ground fire to attack! "instant of time, accompanied by loud cries of, a vehicle containing a new type of dragon spit direct artillery target. This is a base assembly in mid-March a successful synthesis of a new UAV pilot training in a wonderful shot.
since the 1990s, a base assembly focused information technology weaponry and equipment needs, focused their attention on military UAV pilot capacity-building goals, has completed a variety of different types and uses of military UAV experiments , has developed a unique test capability and technological advantages.
a new type of UAV system design approval test in the base project. The new face of this highly sophisticated area of ??the base platform for positive from the test set up, equipment, facilities, technical reserves, personnel development and other aspects of preparation and improvement. They have selected an experienced senior engineers and technical personnel to go to the country more than 10 research institutes to conduct research. With solid technical reserves and hard work, high-quality scientific and technical personnel to write a test system of this type of UAV development programs to ensure the smooth conduct of the project.
one test, the UAV successfully capture the target, the ground fire was about to attack. Suddenly, no loss of automatic target tracking system. Test the atmosphere suddenly became tense. Technical staff through analysis of live video and found the cause of the malfunction. Later, after repeated research and improvement, and finally solve this problem, remove the UAV system, the existence of significant risks.
through repeated research, technical staff also proposed to provide test equipment theodolite observations boot password, optimize command instructions to determine the three new security zone program, the successful realization of the UAV system integration testing exercise success, creating a type of UAV test and the success of the first of its kind.
In recent years, the base range test uses a variety of different models and military UAV systems in a variety of complex conditions through a comprehensive inspection, after the capture of several key technical problems, equipment to combat the forces and gradually formed. (Chaixian Hui Ji Baocheng)