Du Yuming: Su Yu had to admire the military commander (map)
Date:2011-09-03
Author:admin
Category:China military
Comment:0
Su Rong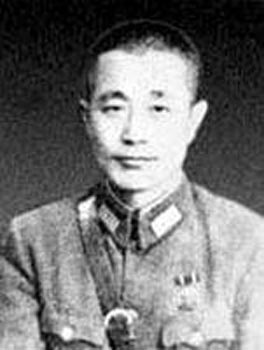 Du Yuming
■ Newspaper Reporters Bo Jinbao
characters Biography: Su Rong, Dongtai, Jiangsu Province, County, February 1926 Health, February 1942 to participate in revolution, joined the army in February 1944, December 1944 to join the party. Former staff, secretaries, East China Sea Fleet Command Office, Office of Military Naval Command, Deputy Commander of the Navy base in Shanghai, Chinese naval base in Shanghai Commission for Discipline Inspection deputy secretary of the rank of full-time.
This year is the 60th anniversary of the Huaihai Campaign. 60 years ago that shocked the world's great battle, a little-known detail: "The total Xuzhou destroy 'deputy commander and director of Du Yuming captured forward command post, Su Yu orders: the former refers to Du Yuming, must is alive. Ordered to perform this task, the fourth column is confidential when Ren Huadong Field Army General Staff of the original Su Rong, deputy commander of the Navy base in Shanghai. Reporters recently visited the old Soviet Union, listening to him talk about that period of unforgettable experiences.
a villager, the captured Du Yuming contributed
Reporters: January 6, 1949, Huaihai Campaign of the army launched the last battle, Du Yuming refused to drop on the offensive launched by the group. After four days and nights fighting, Sheng Fu, "Xuzhou destroy the total 'deputy commander and director of Du Yuming forward command, which marks the successful conclusion of the Huaihai Campaign. 4 vertical you as confidential staff understand the circumstances at the time, right?
Su Rong: far more than is to understand! I was the first contact with authorities Du Yuming column one of the officers, was a witness to history.
Reporter: Can you talk about the circumstances at the time it?
Su Rong: January 10, 1949 morning, the campaign to an end, I received a report of four vertical division 11: Du Yuming was that we captured, but the head from injury, has made dressing. I immediately Tao Yong Guo commander and political commissar, made a presentation of if, then I would like to learn more about the capture of 11 Du Yuming division process.
Du Yuming fled, only with the aide, security, etc. 10. Du Yuming the beard shaved, put on clothes soldiers, each of them a pistol in Canada, posing as military escort to prisoners in an attempt to Chengluan escape. When I came back four vertical and 11 teachers in the hospital bandaged by the villages near the village across a villager. The aide to the villagers asking: "This village on the PLA do?" The villagers look, they are definitely the KMT deserters, they replied: "This way tens of miles around the village within the scope of each on both the PLA." This an aide to tense up. He then took out a gold ring, begged the villagers: "Do not tell people not to report on the PLA." The villagers took the gold ring to the dressing are looking for on the People's Liberation Army, just across a small bandage the soldier, villagers say is: "outside the village, 11 Kuomintang soldiers, you quickly grab their fear of the PLA, told me not to say, gave me a gold ring, I now pay the public." Small Soldiers immediately report to the director of dressing . Director was busy bandaging the wounded due to casually say the sentence: "You are responsible for catching it!" Little soldier said: "I can grasp how a dozen Kuomintang soldiers it? And they have guns." The Long said: "The two of you get a kid one carbine to complete the task." only two teenage soldiers conferred and decided to ambush the enemy side of the road ahead may be a hidden place, a former two into a trapezoidal one after. When the enemy approached the barrier near the front of the small soldiers suddenly rushed out, ordered: "Stop!" And a stride up, aim a gun that an officer (that is, adjutant) chest, ordered everyone to lay down their weapons back, Then back out to make a small fighter cover. This side of the gun 11 on the floor, a back face. Two small enemy soldiers immediately threw the gun aside with their feet into a pile, while deliberately shouted: "Communication classes are over!" (In fact there is no communication classes) and she was always next to the village hidden observation. A call to listen to a small soldier, he immediately called the director and other staff, the lightly wounded, and villagers will be rounded up 11 prisoners, and reported the division headquarters.
division headquarters immediately sent to prisoners taken away, and they are kept together with other prisoners. Du Yuming's identity was not revealed, but he was very nervous. Captured and feel no hope, so to find a stone on the ground, head smashed, and suddenly face covered in blood. His aide rushed in panic while shouting: "Oh, Du Zhangguan head broke!" Captured soldier care to hear, "Du Zhangguan" I thought, Du Yuming army are arrested, immediately ask: "You say who he is?" aide said: "Du Zhangguan." "Du told what?" "Du Yuming." Warriors guard then immediately report to their superiors, 11 division leaders very seriously, Du Yuming immediately returned to wrap the bandage to stop bleeding. Then, the 11 division of the Tan Tao Yong known commander of vertical farming made to the four reports that Tan Tao Yong Du Yuming teachers to staff to conduct a serious examination and treatment, to ensure his safety, responsible for Du Yuming to send someone to escort the Ministry of columns. And stressed that "command must be sent to the column is a living Du Yuming."
villagers who, Du Yuming contributed to the arrest. But unfortunately it did not actually hear his name.
Tao Yong explain: you use the head to guarantee the Hua Du Yuming live wild escort the former refers to
Reporter: You work a long side in the Tao Yong He You know you trust it, it will be such an important task to you.
Su Rong: I Tao Yong side when the staff, often at war to the military command oral communication, something goes wrong adversely affected by aircraft to lose his head, so to develop a meticulous style.
Reporter: This task is unusual.
Su Rong: Du Yuming captured, the commander Tao Yong, Guo-based political commissar immediately if I told them, Tao commander confessed that: "Du Yuming has captured 11 division, was taken to the column on the way to the After I see him with the political commissar and Guo, in honor of his engage six soup and then on to you is responsible for care, you directly to me and Guo political commissar responsible for any other person shall interfere you place arrangements to ensure his absolute safety Su commander has to give me a death command, Du Yuming former refers to the China field, it must be alive Du Yuming, so you use the head to guarantee the Hua Du Yuming live wild escort the former refers to. "Guo added, Political Commissar: "Huaihai battle, we have achieved an unprecedented victory, the capture of Du Yuming even more successful, the victory is complete, so you need to know your responsibility."
Reporters: important general Du Yuming was Chiang Kai-shek, is very stubborn. How do you influence him?
Su Rong: Du Yuming on a stretcher when escorted to the head Despite dressing, but could see a lot of blood flow, there are a lot of blood on the coat, can not wear the. I then took off his coat to wear to him to wear. Commander Tao, Guo political commissar in honor of him, and made a brief conversation with him, and after I am responsible for the care.
Du Yuming to prevent another suicide, I was fully in advance to prevent, find a people's house, the room may be injured all the items are clean. Du Yuming was adjourned to later, I found that he had been restless spirit. So I do consider him to probation work, let him calm down. When I saw his beard shaved very irregular, and asked him: "When you shave the beard?" He suddenly sat up in bed fierce asked: "how do you know that I have beard?" I lied to him said: "I turned 42 Xuzhou, Army Chief of Staff of the orderlies, I know you." 42 vertical captured by my army chief of staff, I participated in the interrogation. He was a sigh of relief, and then lay down, but like in the mind. In order to ease the atmosphere, I chatted up with him. I said: "Do you know Chen Geng?" He said: "Of course understanding that we are one of the students Whampoa This very intelligent, very active, very playful, it will fight and we are able to talk to, how he ? "I said:" Now a good commander Chen Geng, who was a field army of the army commander, his fight is very strategic vision, is a civil and military strategist. "He continued to nod in favor. Then he sighed and said simply: "Chiang Kai-shek Chen Geng, if not left enough." I said: "I see no better along with Chiang Kai-shek." Du Yuming to me: "My long toenails, ask people by the scissors. "I said:" scissors unhappy people we are prisoners of preferential treatment, you head injured, and we will not let you walk. "I think, since he still want to commit suicide, I can not let him idle. So I continue to ask: "how is your head hurt?" He did not directly answer, but repeated that: "the military's it." I said: "I heard that the military is like. Stone hit his head, regarded as the military do? "Du Yuming speechless.
Du Yuming said: Su Yu had to admire the military commander
Reporter: You talk very successful and Du Yuming.
Su Rong: Du Yuming from suicidal thoughts to the basic face reality; not convinced from the failure to defeat the final bow; then spoke from the heart to admire the military strategy of Su Yu, talent, and finally want to leave and me talk for a while, saying that today's conversation on his "very enlightening to understand a lot," and hope I can talk about it. From this perspective, it should be said to be successful.
Reporters: Du Yuming had not convinced of the failure?
Su Rong: Du Yuming said that he was such a miserable failure, did not expect. Du Yuming I said: In fact you should expect, in the northeast as well as the country, you defeat lesson there? This is the last big battle, you should expect such an outcome. Timing, location, and are detrimental to you, although you account for the balance of power on a little advantage, but others of you are negative. Support our military liberated the workers there are over a million and they are all voluntarily, and that you are not capable of that. Du Yuming nodded and admitted that "we do not do, this is your exclusive patent." I said, you also have a fatal, it is met Su Yu. Talking about this, Du Yuming, said: "I already heard about Su Yu, also studied, but no played against, this time we failed badly after the grips had to admire Su Yu's military commander."
I also Du Yuming said the campaign, you are in the military operations of the fingertips, with our military operations command your troops to mobilize, which is the usual army tactics. This campaign is no exception, such as the direction you break a few, but the best direction is south along the Beijing-pump line, which is Su Yu first consideration, we will mouth you may break a few blocked, leaving only the Xuzhou Xinan Xiao County, Yongcheng direction of a hole. Su Yu's full accordance with the results of your plan for. Chiang Huang Weibing group hopes to join with you quickly, this chess game live, Huang is also very hard indeed, desperate, progress. Of course our military not to go all out to cut off the road north, and surrounded, concentrated in the wild and China resolutely destroy wild. In Huang Weibing mission was to surround and annihilate, the Chiang Kai-shek ordered you to break through to the south southwest of the Ministry, support Huang Weibing group. According to my analysis, you do not want to turn to the south, but Chiang Kai-shek's command had to perform. This is a frustrating two days, military encirclement seal just for you, make you into the pockets of our default, as Wengzhongzhibie.
Du Yuming said that I agree. He said: "Su Yu conductor flexible, far-sighted. Su Yu's strategy and tactics I admire, no matter at what time, he was always one step ahead, first in front of us, until we think the time is too late and have been surrounded, the This breakthrough is. "
Du Yuming thoughtful: the people's strength and support, we do not have as an important factor to consider
Reporters: Du Yuming captured later, he was certainly concerned about how to dispose of our military?
Su Rong: Yes. Du Yuming I said, you are our military that war criminals, we are still very much in your favor. Our commander, political commissar of the meal no more than two dishes and one soup, but soup in honor of you with six. You will be injured by his head, can not wear the coat dirty, and I'm afraid you cold, take my coat to you. You will get all the preferential treatment of captives, in the future you will see them, they live very well.
Du Yuming, after listening to my words, the basic emotions stabilized. Next, he took the initiative to ask me some questions. He said: "people like me, how to dispose of the future?" I said: "You are prisoners of our military, our policy is consistent preferential treatment of prisoners the same." He said: "I do not do not believe you, I different from others, I was you declared 'war criminals' people. "I said:" Do not worry, no matter what the past is, as long as the future is not with the enemy of the people, thought-reform, the same will be our government and I Army preferential treatment. "By this time he was basically understand some of our policies, who also became active.
Reporter: This shows that he began to put down the burden of thought.
Su Rong: At this point, Du Yuming began to sum up their mistakes in this campaign and the flexibility of our military strategy and tactics. He said: "We originally expected a breakthrough in the direction, are blocked in your army. Finally, we consider the analysis repeatedly, Xinan Xiao Yong direction of the city and county, you had a chance to contain military, it was decided early break, but never expected this General Su Yu is interested in a pocket under the cloth, let us to fall in. I did not take into account, I really regret for life, which is caused by the failure of the last important reason. "
Reporters: Du Yuming from military point of view of reflection.
Su Rong: Du Yuming was I said, you can reflect on their own, summarize some of the lessons is a good thing. But you do not realize the crucial issue. You failed the most fundamental reason is that you fighting a unjust war, the lack of support of the masses. Followed by Chiang Kai-shek was high-handed, misjudged the situation, relying on subjective decisions, never listen to the lower levels. Of course there are many reasons, but two is your weakness. The army conducted a just war, people everywhere get the endorsement and support, and we talk about military democracy, and development constantly win. He thought for a moment said: "This makes sense. The people's strength and support, we do not have as an important factor to consider, and emphasized the factors of weapons and equipment, military, let alone democracy." And later talked about some. At this point, Du Yuming significant improvement in mood, the spirit of a lot easier, and sometimes smiling.
this way, January 10, 1949, from 1:00 am to 6 pm, Du Yuming conversation and I never stopped, the more they want to talk about him. He said: You talk about many things I was the first time I heard. Finally, send him away, he shook my hand and said: "I hope in the future have the opportunity to meet a good talk."
Reporters: no later meet again?
Su Rong: no. Later, Mr. Du Yuming Serving CPPCC National Committee members and Standing Committee, I was also in Beijing, including the 1979 and 1980 "two sessions", I was deputy director of the General Secretariat of the Assembly, because too busy, had not taken the time see his side, is indeed a great pity!