Indian outsourcing refuse to buy Israeli-made missile to build anti-missile equipment, net
Date:2011-09-03
Author:admin
Category:International military
Comment:0
data for: Indian military do not want to buy domestic "blue sky" anti-missile interceptor missiles

data for: Israel" Sibaideer "near anti-aircraft missile from the moment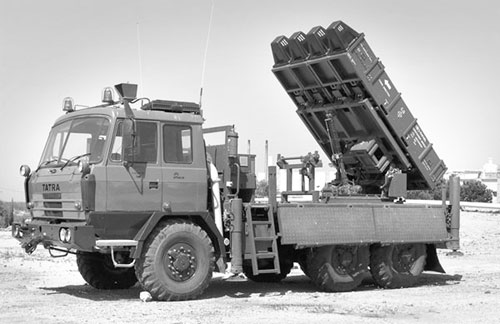 "Sibaideer" highly mobile air defense missile systems
newspaper correspondent/Zhang Zhuo
Recently, the Indian Air Force and Israel Rafael has signed a purchase 18 sets of "Sibaideer" air defense missile system contract, which declared the deal was delayed for years settled. For India, the use of the system "Sibaideer" air defense missile systems to replace aging Russian-made air defense missiles, not only will help end the Israeli "Arrow-2″ anti-missile system, India's air defense system to promote anti-missile system development, but also will further deepen military cooperation with Israel, making it easier imported from Israel advanced weapons and equipment.
short-range targets with the ability of anti-
According to Indian media recently reported that on September 1, the Indian Air Force and Israel signed a value Rafael $ 260 million air defense missile contract. In the beginning of this century India is ready to use new air defense system to replace aging Russian-made "Pechora" air defense system, printed the original plan to use India's Defense Research and Development Center developed its own "blue sky" surface to air missiles, but missile R & D has yet to cross the border, the Indian army refused to use. Forced, India from 2005 to turn to foreign production of anti-aircraft missiles, Israel, Russia, France and other countries have received anti-aircraft system to send the Indian army's offer to purchase, and ultimately win the Israeli air defense missile system.
"Sibaideer" air defense missile system is the biggest feature is the launch platform in the same combination of "cockatrice -5″ and "Derby" two different missiles. The former combat maneuverability superior short-range missiles, while the latter is the distance from the interceptor missiles, both in technology are world-class. The ingenuity of the two missiles combined, making the "Sibaideer" air defense missile systems along with a short-range and medium-term goal of killing ability, can attack fixed-wing aircraft, helicopters, unmanned aerial vehicles, drones and precision-guided missiles. It can provide a fixed target point and area air defense capability, but also for the movement of armored forces to provide air support. The system can be 360-degree war, no war dead.
confirmation from the target to the missile launch, "Sibaideer" air defense missile system response time of less than 5 seconds. Destruction from within 1 km distance to 15 km, killing airspace from 20 meters to 9000 meters. Multi-target missile with the same engagement capability, single, multiple emission, all-weather operations. India to buy "Sibaideer" air defense missile system is actually equivalent to simultaneously have two types of air defense missile systems, which cost accounting is very advantageous.
India and the transition from air defense to missile defense
1971 Indo-Pakistan war, India began to strengthen air defense capability building, the 1980s, India built the widespread use of "air defense ground environment system." Currently, India in imitation of the "Sam" series of Russian-made anti-aircraft missiles and "Pechora" medium-range surface to air missiles as the basis, has formed a complete air defense system. According to Indian demands, mainly military targets, the security forces as well as important regional air defense system must be reliable protection.
the 1990s after the Gulf War by the "Patriot" missiles limelight of shock, with old rivals – Pakistan's ballistic missile technology continues to evolve, India germination of the idea of ??establishing anti-missile system, network will be upgraded to have a certain air defense anti-missile defense system capabilities. To this end, India purchased from Russia and began to lease the S-300 and "Aetna -2500″ air defense missile system from Israel to purchase the "Arrow" missile defense system in the "Pine" radar alert.
close as Pakistan from India, India Pakistan missile warning time is very short, which makes the way seem unrealistic long-range interceptor, so a greater emphasis in India, to intercept short-range low-level way. Indian media reports, India has developed a tiered implementation of two surface to air missile defense program. The first in the 80-85 km range missiles to intercept incoming missiles on the second missile intercept in 20 kilometers away. While the Indian media has repeatedly stressed that India will use China-made weapons to achieve this functionality, but the current development of India's air defense/missile weapons were not able to achieve this goal. Some analysts believe that: as the 80-85 one thousand meters interception task may be Israel's "Arrow" system, its ballistic missile intercept distance of 90-100 km; as 20 km interception task can be an existing S -300 or "Aetna -2500."
with India and the U.S. anti-missile system Russia show interest in the long run, responsible for medium-range intercept missions may be newly equipped with the Russian S-400, responsible for short-range intercept missions may also U.S. "Patriot" system.
news link
Indian military cooperation irksome
the Indian procurement from Israel 18 sets of "Sibaideer" air defense missile systems, making military cooperation between India and to the depth of remarkable.
present, India has become Israel's largest arms market, gave half of Israel's arms exports to India, second only to Russia, India's second largest arms supplier. Especially in recent years, Israel not only provided India with the "Phalcon" AWACS, "Barak" surface-to, "Pine" radar, but also help India to improve the existing Soviet military system "MiG-21S "" MiG-29S "and other aircraft, MiG-8S", "MiG -7″ helicopters and "Tao -72″ tanks. In addition, Israel has been invited to invest $ 100 million in India, jointly developed the "Arrow" type anti-missile system.
for both China and India due to security and defense cooperation to maintain a low profile, and therefore did not cause too much attention to the world.
. otherContent_01 p {line-height: 23px; margin: 0px;} . pb {}. pb textarea {font-size: 14px; margin: 10px; font- family: "Times New Roman"; background: # FFFFEE; color: # 000066}. pb_t {line-height: 30px; font-size: 14px; color: # 000; text-align: center;}/* Page */. pagebox {overflow: hidden; zoom: 1; font-size: 12px; font-family: "Arial", sans-serif;}. pagebox span {float: left; margin-right: 2px; overflow: hidden; text -align: center; background: # fff;}. pagebox span a {display: block; overflow: hidden; zoom: 1; _float: left;}. pagebox span.pagebox_pre_nolink {border: 1px # ddd solid; width: 53px; height: 21px; line-height: 21px; text-align: center; color: # 999; cursor: default;}. pagebox span.pagebox_pre {color: # 3568b9; height: 23px;}. pagebox span.pagebox_pre a,. pagebox span.pagebox_pre a: visited,. pagebox span.pagebox_next a,. pagebox span.pagebox_next a: visited {border: 1px # 9aafe5 solid; color: # 3568b9; text-decoration: none; text-align: center; width: 53px; cursor: pointer; height: 21px; line-height: 21px;}. pagebox span.pagebox_pre a: hover,. pagebox span.pagebox_pre a: active,. pagebox span.pagebox_next a: hover,. pagebox span.pagebox_next a : active {color: # 363636; border: 1px # 2e6ab1 solid;}. pagebox span.pagebox_num_nonce {padding: 0 8px; height: 23px; line-height: 23px; color: # fff; cursor: default; background: # 296cb3 ; font-weight: bold;}. pagebox span.pagebox_num {color: # 3568b9; height: 23px;}. pagebox span.pagebox_num a,. pagebox span.pagebox_num a: visited {border: 1px # 9aafe5 solid; color: # 3568b9; text-decoration: none; padding: 0 8px; cursor: pointer; height: 21px; line-height: 21px;}. pagebox span.pagebox_num a: hover,. pagebox span.pagebox_num a: active {border: 1px # 2e6ab1 solid; color: # 363636;}. pagebox span.pagebox_num_ellipsis {color: # 393733; width: 22px; background: none; line-height: 23px;}. pagebox span.pagebox_next_nolink {border: 1px # ddd solid; width: 53px; height: 21px; line-height: 21px; text-align: center; color: # 999; cursor: default;} Previous 1 2 3 4 5 6 7 8 Next