Russian strategic bombers near Alaska airspace in the live-fire exercises
Date:2011-09-03
Author:admin
Category:International military
Comment:0
Russia map 160 strategic bombers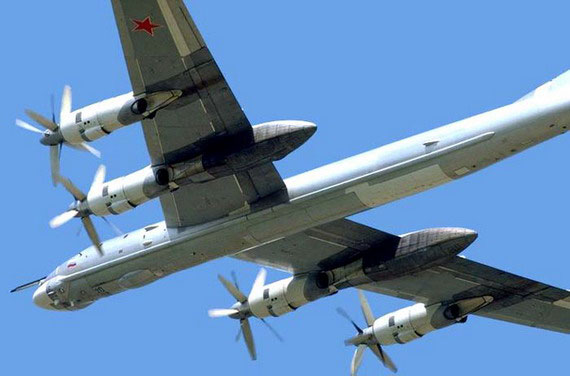 Russian Tu-95 strategic bombers
China News Network October 5, according to Israeli news website Debkafile reported that Russian strategic bombers tomorrow (October 6) will be close to the U.S. from Russia and Alaska at the Arctic airspace cruise missile firing exercises.
this will be October 6 to 12 exercises conducted in Russia, "stability of 2008″ as part of a large-scale military exercises. Month "stability 2008″ large-scale military exercises of Russia and Belarus are a number of areas, and its purpose is to exercise the strategic plan of the armed forces, including the deployment of nuclear forces Trinity to address potential threats near the Russian border. More than 60,000 troops, 1,500 tanks and armored personnel carriers, land-based and submarine-launched nuclear missiles took part in the first phase of the exercise. Debkafile10 January reported that, as a "stability 2008″ part of the exercise, ships equipped with nuclear missiles, Russia will stop the Syrian port 8, then went to the Caribbean and Venezuela hold joint military exercises.
2, the Russian news agency quoted Russian Air Force spokesman Colonel Di Like saying: "Figure-95MS and Tu-160 crew will bring the maximum combat payload perform the mission, and launch all airborne cruise missiles, which is the first time in many years. exercises would be unprecedented scale, in addition to Tu-160 and map-95MS, Tu-22M3 strategic bombers, air superiority fighter competition, interceptors, air tankers will be exercises. the number and types of aircraft that the aircraft will be participating in week-long drill a series of tasks. "map-95MS and Tu-160 can carry 12, respectively, and six KH-55 long-range cruise missiles. Former Russian Air Force commander Jieyi Nie Jin said the Tu-95 strategic bombers carried out only in 1984 that all airborne cruise missile launch exercises. He said: "The Tu-160 bombers have never carried out such exercises with live ammunition because the cost for such training is very high." Multiple sources, the Russian Air Force currently has 16 Figure -160,40 Tu-95MS, 141 Tu-22M3 bombers.
Russia military exercise carefully selected locations in order to send three messages to the United States: First, Russian leaders are willing to demonstrate its nuclear capabilities before the United States (Northern Line in the Arctic, the South line in the Caribbean region) to challenge the United States, the world's superpower status. Second, Russia wants to show Russia has enough wealth and capacity to weather the global financial crisis, while developing its military to expand its sphere of influence. Finally, the Russian nuclear missile cruiser "Peter the Great" indicates stop Syria and Hong Kong, Russia and the U.S. Sixth Fleet in the Mediterranean categories. (Huang Huan)