Home
»
China military
» Foreign media that China is actively sell to Southeast Asia unmanned aircraft CH-3
Foreign media that China is actively sell to Southeast Asia unmanned aircraft CH-3
Date:2011-09-02
Author:admin
Category:China military
Comment:0
Brunei Air Force, according to Ding Zhunjiang sand (right) listen to Chinese officials on the Defense Exhibition CH-3 unmanned attack aircraft performance Commentary.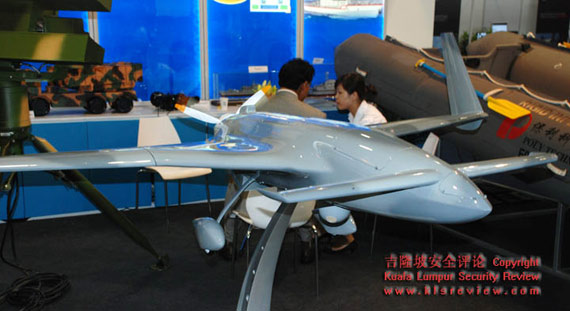 Chinese in Southeast Asia have shown the CH-3 unmanned attack aircraft.
According to Malaysia, "Kuala Lumpur, security reviews," reported China's first in Southeast Asian countries or by the Brunei International Defence Exhibition 2009 (BRIDEX 2009) platform, to Southeast Asian countries to promote CH-3 unmanned attack aircraft.
According to the 2007 defense white paper issued by Brunei, Royal Brunei Air Force unmanned aerial vehicles and equipment will be owned and planning to strengthen Brunei's marine and terrestrial, more effective monitoring.
reported that, CH-3 unmanned attack aircraft using propeller engine, and equipped with two AR-1 anti-tank missiles. This is a CH-3 unmanned attack aircraft since the 2008 Zhuhai air show debut, the first Southeast Asian country to sell. China display AR-1 anti-tank missiles, according to the production company released the technical details of AR-1 missile, warhead weighing about 10 kg, a range of about 2-8 km, speed of Mach 1.1, missile weight 45 kg. AR-1 uses a semi-active laser guidance system, using a solid rocket motor. This is the AR-1 on display since 2008 Zhuhai Air Show since the first appearance of the Southeast Asian countries.
report said, AR-1′s armor piercing capability greater than 1000 mm, while the penetration of reinforced concrete to 1200 mm. CH-3 from China to sell and AR-1 shows that China in the future will be more frequent in Southeast Asian countries to sell equipment, and ground equipment and flight equipment, may be hit in Southeast Asia after China's military equipment.