Terrorist attacks in Mumbai: Police is not a rival (Figure)
Date:2011-09-02
Author:admin
Category:International military
Comment:0
swaggering march to the railway station in Mumbai A Zhaman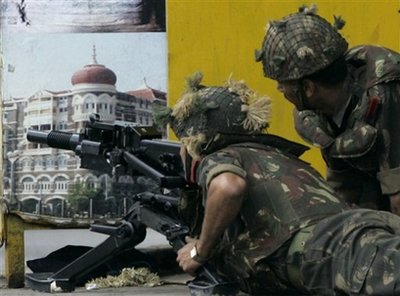 Indian soldiers exchanged fire with the terrorists

attacked after the Taj Mahal Hotel Group pigeons flying
People Network News December 1, Indian police investigators announced on November 30, according to captured terrorist attacks in Mumbai Azha Man explained that he was in the Kashmir region of Pakistan Muslim extremist factions "military justice" organizations in the training. It is reported that a total of 10 militants involved in this up to 60 hours in Mumbai attacks, in addition to Azha Man captured, the other nine people were killed in the recalcitrant. India said that this attack killed at least 174 people were killed.
India acknowledged that the terrorist attacks in Mumbai exposed himself in the maintenance of national security weakness. Indian government and generally believe that these terrorists whether it is equipment, training level distance coordination, better than the average Indian police. The face of heavy pressure, the Indian Minister of the Interior had to resign. U.S. anti-terrorism experts believe that this attack in Mumbai and Kashmir, the Muslim extremists at the same time, these radical groups and the "base" organizations.
However, as early as 2002, the Pakistan government to ban "military justice" in the territory of Pakistan. Pakistani presidential spokesman so clearly expressed the hope that India and the relevant provision of "all kinds of conclusive evidence," one can not with "account, according to captured terrorists," let Pakistan "back to support terrorism, bear the blame." Up to now, about the captured terrorists were "confessions" are provided by the Indian police released to the media.
Mumbai attacks subsided after Prime Minister Manmohan Singh said it would strengthen the sea and air targets warning efforts, and set up similar to the U.S. Federal Bureau of Investigation as the agency to carry out investigation work. However, Indian scholars are concerned that other terrorists may be hiding in the shadows in India to launch similar attacks in other areas, while Indian police ability to deal with terrorists, in the short term "will not be much change."
Azha Man and captured before the training through the "record"
Azha Man explained that he and 23 other militants in Kashmir to accept militarization of the one-year training. Their coach is the name of retired special forces, code-named "pork on a skewer." These were divided into three stages of training, first three months of physical training, the participants every day marathon 10-15 km. The next three months, they conducted a water training, exercises, swimming, swimming, and sailing skills in the big waves in the last three months is the normal operation of various types of weapons training.
After training, 10 instructors to pick out the "death squads" members, and all to India, Mumbai with "short-term attachment" to become familiar with local conditions, in preparation for carrying out attacks. They take a lot of photos and video data for analysis. "Pork on a skewer" targeted layout of their men how to act, and asked them to "fight to the last breath." Indian investigators are analyzing the terrorist use of GPS and satellite phone to confirm they are the route to India and communications situation.
A Zhaman testified that they originally planned to "copy" the Pakistani capital Islamabad Marriott Hotel bombing occurred, will be known as "Mumbai landmark," said the Taj Mahal Hotel fried pieces. Allow investigators more surprising is that the attackers even after the day that he can "leave Mumbai alive" and escape routes are stored in global positioning system device. Before departure, each of these militants received six or seven magazines (about 300 rounds of ammunition) and eight hand grenades and a pistol and a small amount of dried fruit.
equipment neat, the Azha Man and his associates to leave their fishing boats near the Pakistani city of Karachi to the villages in Gujarat, India. 4 sea miles away from the shore when Azha Man's associates met to collusion and transfer three boats into the city of Mumbai. After landing, the 10 militants were divided into five "battle groups", in which four to Taj Mahal Hotel, Trident Hotel two goals, two people that Raman Hostel, Azha Man and another man were sent to the train station attack.
26 evening 9:30, Azha Man and his companions opened fire indiscriminately into the railway station in Mumbai, this time the number of police patrolling the station more than 60, but failed to stop the attack. To this end, the Indian railway police official said his men with batons and only old-fashioned rifle, together with police to disperse, is not a terrorist opponents armed with submachine guns. In this way, A Zhaman immediate concern both men ambushed police on the street, will be responsible for Mumbai's special police commander is responsible for counter-terrorism killing.
a surviving police Times of India said Azha Man was crazy to open a smile to the police rushed to the hotel Taj Mahal. However, the two armed police reinforcements were rushed to block the road in half, both fierce gun battle broke out. A Zhaman after the killing of a police officer injured his associates were killed on the spot. Xianshibumiao of Azha Man lying on the ground playing dead, and treated as bodies were taken to a local hospital morgue. However, there was a police officer noticed Azha Man's "body" actually breathing, when questioned about it to the anti-terrorism task force.
investigators hope Azha Man's mouth, get on with the attacks in Mumbai for more details. One thing is now sure: Mumbai attacks are also complementary, sophisticated planning results. In addition to Azha Man, other terrorists have been killed. This is 10 people will be turned upside down in India's financial center, killing, bloodshed. India's anti-terrorism forces face a severe test. (H Yi Jun)
. OtherContent_01 p {line-height: 23px; margin: 0px;} . Pb {} . pb textarea {font-size: 14px; margin: 10px; font-family: "Times New Roman"; background: # FFFFEE; color: # 000066}. pb_t {line-height: 30px; font-size: 14px; color: # 000; text-align: center;}/* page */. pagebox {overflow: hidden; zoom: 1; font-size: 12px; font-family: "Arial", sans-serif;}. pagebox span {float: left; margin-right: 2px; overflow: hidden; text-align: center; background: # fff;}. pagebox span a {display: block; overflow: hidden; zoom: 1; _float: left;}. pagebox span.pagebox_pre_nolink {border: 1px # ddd solid; width: 53px; height: 21px; line-height: 21px; text-align: center; color: # 999; cursor: default;}. pagebox span.pagebox_pre {color: # 3568b9; height: 23px;}. pagebox span.pagebox_pre a,. pagebox span.pagebox_pre a: visited,. pagebox span.pagebox_next a,. pagebox span.pagebox_next a: visited {border: 1px # 9aafe5 solid; color: # 3568b9; text-decoration: none; text-align: center; width: 53px; cursor: pointer; height: 21px; line-height: 21px;}. pagebox span.pagebox_pre a: hover,. pagebox span.pagebox_pre a: active ,. pagebox span.pagebox_next a: hover,. pagebox span.pagebox_next a: active {color: # 363636; border: 1px # 2e6ab1 solid;}. pagebox span.pagebox_num_nonce {padding: 0 8px; height: 23px; line-height : 23px; color: # fff; cursor: default; background: # 296cb3; font-weight: bold;}. pagebox span.pagebox_num {color: # 3568b9; height: 23px;}. pagebox span.pagebox_num a,. pagebox span . pagebox_num a: visited {border: 1px # 9aafe5 solid; color: # 3568b9; text-decoration: none; padding: 0 8px; cursor: pointer; height: 21px; line-height: 21px;}. pagebox span.pagebox_num a : hover,. pagebox span.pagebox_num a: active {border: 1px # 2e6ab1 solid; color: # 363636;}. pagebox span.pagebox_num_ellipsis {color: # 393733; width: 22px; background: none; line-height: 23px; }. pagebox span.pagebox_next_nolink {border: 1px # ddd solid; width: 53px; height: 21px; line-height: 21px; text-align: center; color: # 999; cursor: default;} Previous 1 2 3 4 5 6 under a