Home
»
International military
» Pakistan's 100,000 troops to be transferred should go to the border tensions between India and Pakistan
Pakistan's 100,000 troops to be transferred should go to the border tensions between India and Pakistan
Date:2011-09-02
Author:admin
Category:International military
Comment:0
Pakistan cabinet held an emergency meeting of India on the Mumbai attacks against Pakistan's accusations. Xinhua News Agency issued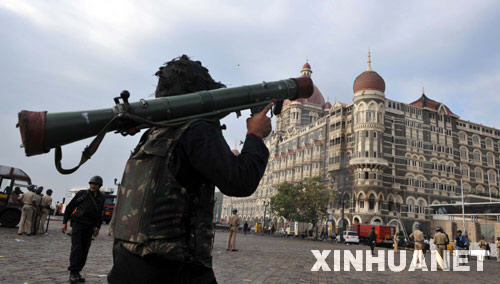 Taj Mahal Indian special forces in front of the hotel alert

Pakistanis took to the streets to protest the Indian authorities refer to the country involved in Mumbai terrorist attack.
India Maharashtra Chief Minister Deshmukh in the November 29 press conference that serious attacks in Mumbai and Pakistan can not get away, because "that Pakistani terrorists were captured alive." . Deshmukh also said: "mastermind of the incident investigation and trial of suspects in progress, more details will soon be released."
India said, "has acquired evidence"
28, Indian Prime Minister Manmohan Singh on the phone to Pakistan Prime Minister Gilani said that India has mastered the evidence, making terrorist attacks in Mumbai were arms and ammunition from the port city of Banan Karachi.
Indian Foreign Minister Pranab Mukherjee on the 28th for the first time that the initial intelligence ties with Pakistan, militants have planned and executed a series of attacks. He also reminded Pakistan keep its promise to allow the country's territory from being used for terrorist attacks on India.
Pakistani Foreign Minister said that India is no evidence
accusations against India, Pakistan President Asif Ali Zardari 29 commitments, the Mumbai terrorist attacks will events with India to "no delay" in full cooperation and vowed if the evidence as a base for terrorists to Pakistan, the Pakistani government will take "the most severe action" to combat.
the day Pakistani Foreign Minister Qureshi also said Pakistan strongly condemns Indian Mumbai "barbaric acts of terrorism", is willing to investigate the terrorist attacks to provide full assistance and cooperation. If you find organizations in Pakistan for terrorist attacks in Mumbai, the government will take action.
Indian media have accused Pakistan and the terrorist attack on Mumbai issue, Qureshi pointed out that the Indian media should not be irresponsible remarks, India and Pakistan did not provide any evidence relating to the terrorist attacks in Mumbai.
Qureshi said: "India's leadership has not accused the Pakistani government, which is very clear … we have always said, whether we have new information, or they (India) have evidence, they should share with each other. Terrorism is terrorism, Pakistani and Indian governments to terrorism are the same. "
U.S. media quoted Pakistani private television GeoNews reported that in response to Pakistan there may be tensions with India, is planning to 100,000 troops from the areas bordering with Afghanistan transferred to the border with Pakistan. The Pakistani military has informed this decision to the NATO and U.S. coalition forces in Afghanistan, senior. A source revealed: "Pakistan has said the coalition side, are unable to concentrate on the fight against terrorists on the Afghan border, as troops in the border with Pakistan is more important to protect national security." Dong Wei (China Daily Feature) ( Source: Morning News)
. otherContent_01 p {line-height: 23px; margin: 0px;} . pb {}. pb textarea {font-size: 14px; margin: 10px; font-family: "Times New Roman"; background: # FFFFEE; color: # 000066}. pb_t {line-height: 30px; font-size: 14px ; color: # 000; text-align: center;}/* page */. pagebox {overflow: hidden; zoom: 1; font-size: 12px; font-family: "Arial", sans-serif;} . pagebox span {float: left; margin-right: 2px; overflow: hidden; text-align: center; background: # fff;}. pagebox span a {display: block; overflow: hidden; zoom: 1; _float: left ;}. pagebox span.pagebox_pre_nolink {border: 1px # ddd solid; width: 53px; height: 21px; line-height: 21px; text-align: center; color: # 999; cursor: default;}. pagebox span.pagebox_pre {color: # 3568b9; height: 23px;}. pagebox span.pagebox_pre a,. pagebox span.pagebox_pre a: visited,. pagebox span.pagebox_next a,. pagebox span.pagebox_next a: visited {border: 1px # 9aafe5 solid; color: # 3568b9; text-decoration: none; text-align: center; width: 53px; cursor: pointer; height: 21px; line-height: 21px;}. pagebox span.pagebox_pre a: hover,. pagebox span.pagebox_pre a: active,. pagebox span.pagebox_next a: hover,. pagebox span.pagebox_next a: active {color: # 363636; border: 1px # 2e6ab1 solid;}. pagebox span.pagebox_num_nonce {padding: 0 8px; height: 23px; line-height: 23px; color: # fff; cursor: default; background: # 296cb3; font-weight: bold;}. pagebox span.pagebox_num {color: # 3568b9; height: 23px;}. pagebox span.pagebox_num a, . pagebox span.pagebox_num a: visited {border: 1px # 9aafe5 solid; color: # 3568b9; text-decoration: none; padding: 0 8px; cursor: pointer; height: 21px; line-height: 21px;}. pagebox span . pagebox_num a: hover,. pagebox span.pagebox_num a: active {border: 1px # 2e6ab1 solid; color: # 363636;}. pagebox span.pagebox_num_ellipsis {color: # 393733; width: 22px; background: none; line-height : 23px;}. pagebox span.pagebox_next_nolink {border: 1px # ddd solid; width: 53px; height: 21px; line-height: 21px; text-align: center; color: # 999; cursor: default;} Previous 1 2 3 4 5 6 7 8 Next