Home
»
China military
» Fighter fitted with a female pilot new advanced portable umbrella fabric cutter
Fighter fitted with a female pilot new advanced portable umbrella fabric cutter
Date:2011-09-02
Author:admin
Category:China military
Comment:0
8 30, the Air Force replaced the first female pilot fighter fitted with a new flight of a ceremony held at the airport in the north. Lei agency issued photo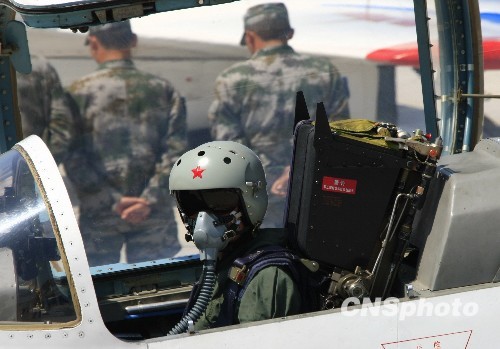 installed with these new flights, is designed specifically for the female pilot fighter. Lei agency issued photo
China news agency, Beijing, August 30 – (Jingji Hong Lin Liu turn Pottery Blue) female pilots in the Chinese Air Force fighter replacement of the first flight loaded with the new 30 ceremony held at an airport in northern China, 16 body a new female pilot flying outfit, against the background of the new aircraft, flying more pride.
flight loaded with including helmets, masks, anti-G suit and life jacket, are pilot flight training, life-saving operations and the importance of protective equipment distress. The replacement of equipment with new high-tech flight, reached the international advanced level.
Armament Department of the Air Force Director of special equipment, said Wang Ju, a group of new flight equipment is designed specifically for the female pilot fighter, anti-G suit and matching clothes, using the world's most advanced pilot high strength flame-retardant fabric and new materials with light, breathable, antistatic, anti-high-speed air winds and other functions, can maximize the protection of the pilot's flight training in the process of changing a state of emergency and personal safety; oxygen mask communication systems make extensive use of advanced aerospace technology to ensure the open space around the cabin and call quality.
far as I know, this flight equipment in the design process with full consideration of women pilots physical condition, physiological characteristics, and aesthetics from the perspective of human needs, focus on counter-G suit and overalls for a comprehensive detail optimal design. Anti-G suit the front of the left thigh bags easy to carry umbrellas sewing knife blade, outer and inner sewing velcro inflatable tube, inflatable tube to prevent arbitrary action shaking; waist and abdomen, thigh and calf adjustment rope to protect the external fabric sewing to prevent the hook; thigh lateral position by the quick adjustment sewing zippers, helps to regulate the tightness of the thigh to increase the appropriate body of the garment. Clothes using collar, chest, back card, piece structure, highlighting the legs, arms stretch degree of flexibility and activities to make pilots more comfortable driving control when the movement.
Wang Ju said, this flight is loaded with Air Force organizations, professional and technical strength, concentration of research 15 months to complete the development and production tasks. He said this with a female pilot sent sixteen fighter equipment, in accordance with the physical condition of each pilot's tailored, future development and production organization for female pilots will be driving more life-saving type of fighter fitted with special protection.
Air Force first female pilot He Xiaoli fighters interviewed by reporters, said the new flight loaded with a trial with the troops, combat flight training will provide strong security. We do hard fine fly, the real quality of their own training to become fully competent, able to perform important tasks of the air combatants.
this time for a new flight with a loaded, 16 female pilot, is the result of basic education and training, early training and higher education to teach machine machine training, joined the ranks of the Air Force fighter pilots. (End)
have _COUNT_ -bit user comments I want to comment
Related reading:
HD Figure: Air Force replaced the first female pilots in planes loaded with new flight
female pilots in the new system installed with physiological characteristics designed specifically for women
Air Force 60th anniversary parade cited guess expect female pilot appeared
Chinese female pilots can fly dive jump drive, etc. to teach -8 tactical action
female pilots have flown our new fighter aircraft Higher machine (Figure)