French Navy captured eight in the Gulf of Aden pirates (Photos)
Date:2011-09-02
Author:admin
Category:International military
Comment:0
French Ministry of Defense released on January 1, photo shows, the French sailors in the Gulf of Aden arrested motorboat (right) on the Somali pirates.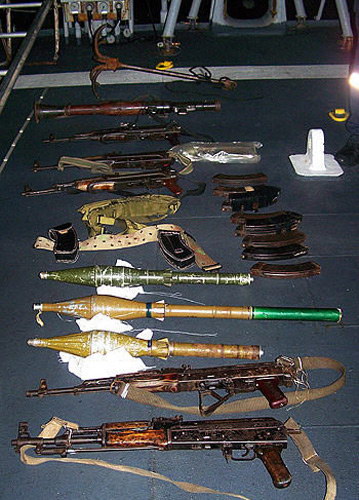 French sailors seized by Somali pirates of weapons.
PARIS, January 1 (Reporter strict), today announced the French presidential palace, to participate in the joint EU to combat piracy, "Atta Rand," the day of military operations in the Gulf of Aden, the French navy foiled a pirate action, and captured 8 pirates.
night of the presidential palace said a press release, 8 Somalis try to force men traveling in two motor boats sailing in the Gulf of Aden aboard a Panama-registered cargo ship, a frigate of the French army which successfully intercepted two motor boats and arrested eight people on board and seized a number of weapons and ammunition, the Somali people have been arrested for the transfer of the Somali authorities.
French President Nicolas Sarkozy, the French Navy's action was pleased, and reiterated that France will firmly crack down on piracy.
. OtherContent_01 p {line-height: 23px; margin: 0px;}
related topics: Chinese naval escort to Somalia waters